Living without bread in my refrigerator was never an option for me. So, as soon as I switch to a low carb diet, I started looking for ways to bake myself a low-carb bread. And after successfully failing 3-4 times, I was finally able to bake a perfect keto bread that was soft, fluffy, easy to bake, and carb-free. This low carb keto English muffin recipe was never easy, but now that I have tried and test this combination of ingredients several times, I keep this bread baked and ready to serve at breakfast or use it in sandwiches or other recipes. And since I want to make life easier for my keto family, I will be sharing all about this keto bread recipes in this blog.
What Makes this Bread Low Carb Keto?
When you are new to the ketogenic diet, I know it is hard to figure out all about the possible low carb alternatives that we can use. I won't lie; it also took me 1-2 weeks to discover all the low carb ingredients and substitutes that make out keto diet complete. So, when I found out about nut-based flour, I was more than happy to stock my pantry with a handsome amount of those low carb flours, since I always knew that I would need them a lot. The flour I used for this recipe include:
Almond flour
Coconut flour
Let me share a few facts about these low carb flours. The almond flour that is available in the market comes in two different varieties. One is the blanched form, which has a finer texture than the other unblanched variety of almond flour. I usually use the blanched almond flour due to its super-fine texture, but for this bread, you can also use the unblanched variety. The unblanched almond flour is processed out of whole almond; it has a mix of light and dark brown grains, so it adds both a specific color and grainy texture to the bread. I usually use Bob's Red Mill super-fine blanched almond flour for baking purposes, where Great Value's almond flour can also be used for low carb cooking.
From Pillsbury to Bob's Red Mill, each brand offers a quality coconut flour pack that you can stock at home for low carb baking purposes. The great thing about the coconut flour is that it is not only low in carbs, but it also rich in fiber. For this reason, I use a combination of almond and coconut flour for baking this bread.
The other ingredients that I use for this 90-second low-carb keto english muffin bread include egg, xanthan gum, baking powder, and melted butter. If you notice, I am not using any amount of water or milk to prepare the bread's dough. It is because the egg and melted butter used in this recipe are enough to mix and blend the dry ingredients, and these liquid bases keep the dough soft before and after the baking while rendering the bread fluffy even when cooked in the microwave.
The 90-Second Low Carb English Muffin Bread:
The reason why I end having this low carb keto English muffin bread almost every other morning is the ease and convenience of cooking. No excessive kneading, no tricky steps, and no extra utensils are needed to enjoy a low carb meal, just put all the ingredients together and cook them in 90 seconds. The only thing you need to make the bread is a microwave-safe mug or a ramekin. And most importantly cook them on a 20 seconds intervals, if you don't want to have a bread explosion and a messy microwave. Trust me, no one wants that. I learned the hard way.
Low Carb Bread Serving Ideas:
This keto bread offers 2 g of net carbs, which makes it an appropriate serving for all the low carb diets as well as for the keto diet. And let me tell you all the ways to serve this delicious bread. You can make use of this dough to make a carb English muffin as well. Then you can make the sandwiches using the bread slices.
Stuff this low carb bread with low carb beef burger to make a delicious hamburger. Or top the bread slices with poached eggs, slices of tomatoes, and onions to make a complete breakfast. I also love having this bread with eggs benedict.
I know we can always get bored with the basic plain bread, and you will need a change to taste and flavors every once in a while. To do so, I use different ways to add a variety of flavors to the same bread.
Sometimes, I add a drop of stevia liquid to the bread dough, which will give this bread a sweet taste. Stevia is a highly sweet low carb sweeteners that must be used in a small amount to sweeten a meal. Then I add dried or fresh herbs like parsley, thyme, rosemary, or oregano to the dough before cooking it to add a distinct taste and aroma. There is yet another way to make this low carb bread even more delicious is to brush it with garlic herb butter.
New to this healthy lifestyle? don't miss out my starter guide and my ultimate low carb keto shopping list.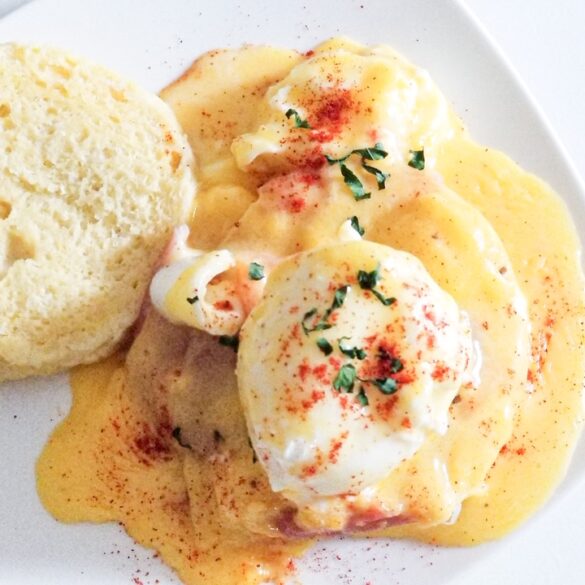 Ingredients
1 large egg

1 tbsp almond flour

½ tsp xanthan gum

1 tsp coconut flour

Salt to taste

14 tsp baking powder

½ tbsp melted butter
Instructions
In a ramekin bowl, add the melted butter first and then add all the other ingredients and mix well.
Place the ramekin in the microwave and cook the bread batter for one minute.
Once done, remove the ramekin from the microwave and allow it to cool.
Run a knife around the edges of the bread and then flip it over a plate.
Slice the bread into two halves and serve.
Tips and notes:
Even though these muffins are very easy to make, if you don't follow the 20 secs interval rule, you can end up with a total disaster on your microwave.
They are so versatile that you can never get tired of them. You can easily personalize them according to your taste.
Depending on your microwave, you might need to give a little bit more time. The muffins should be firm, not jiggle.
* The nutrition facts provided on this site are estimated values from an online recipe nutritional calculator. I am not a specialist, not a certified nutritionist. For accurate information or dietary restrictions, allergies and concerns, please consult a professional nutritionist or specialist.