Having keto low carb lemon glazed bars every now and then almost feels like a stress reliever. Trust me! A good lemon glazed bar always puts you in a better mood. Everyone in my family simply loves home-baked shortbreads. I enjoy adding variety to my menu, so I kept experimenting with a new shortbread recipe and ended up finding some of the most delicious dessert that you can bake easily at home using basic ingredients. The lemon bars have always been my favorite, all because of their refreshing citrus rich flavor and aroma. These Keto Low carb Lemon Glazed Bars always remained in my home-baking priority list.
However, when I switch to my low-carb ketogenic diet, I was no longer able to enjoy the lemon cookies I used to bake. So, I worked on a recipe that would help me reduce the carb content of these cookies but offer the same taste. This low-carb lemon cookies recipe is everything I was looking for. I didn't know it could that much simple and easy. Allow I needed was a perfect combination of low-carb flour, keto-sweeteners, and other essential items for baking. So, prepare a cookie batter out of that combination, and the results were far better than my expectations. I was awed by that soft, yet crispy, cookie-like texture. When I got satisfied with the cookie results, I added a glaze to the recipe to give the recipe more flavors.
How to Bake Keto Lemon glazed Shortbread?
Every time I share my experience of these keto lemon cookies, everyone asks me that same question – "How do you bake them." And I understand when people show concern about using low-carb alternatives for this recipe. Being a newbie once, I was also concerned when I first used almond flour to make the cakes and cookies. I thought that the change of flour or the sweetener might affect the texture and taste of the cookies in some ways. But this Keto lemon cookies recipe proved me wrong. I was surprised when these cookies tasted exactly like the market bough lemon cookies.
So, here I am! Sharing my keto lemon cookies experience with you all. But before getting to the actual recipe, let me tell you all about the low-carb ingredients I used for this recipe. For a low-carb cookie recipe, we need a low-carb flour. So, I couldn't think of anything better than the:
Almond Flour:
This flour is processed out of the almond nuts. Mostly we used blanched almond flour, which is finer in texture and appears lighter in color than the unblanched almond flour. But for this recipe, I wanted a bit of a coarser texture, so I used the unblanched almond flour. If you don't like that texture, then you can also use the blanched variety of the almond flour. I have tried the Hodgson's Mill unblanched almond flour, and it turned to be great in texture and quality. However, you can try any other brand, as long as the quality is as good as the Hodgon's.
Powdered Erythritol:
The next important ingredient that I needed to use for these cookies was the keto-sweetener. Whether it is the cookies or their glaze, you do need to add some sweetness. Since sugar is out of the list, I looked for plenty of low-carb sweeteners that would mix and match with the taste and texture of the lemon cookies. Erythritol powder sweeteners were my final choice because it's sweetness and texture; both were perfect for this recipe. Ever since I went keto, I have been using "So Nourished's" 100 percent Erythritol sweetener, and I use the same for this recipe as well. You can try other brands as well.
Other Ingredients:
To prepared the shortbread batter, I have used other ingredients as well, which give the cookies a distinct texture. Cream cheese, butter, and egg are the essential ingredients of this recipe, which add a much-needed fluff and creamy texture to the batter. Then you just need to add lemon juice and zest to add a refreshing twist of citrus. And that's how you can make a delicious lemon cookie batter.
Then comes the glaze, which I make out of the same erythritol powder and the lemon juice. Simple whisk them together to get a white lemon glaze. You can keep the glaze ready in the refrigerator until the cookies are ready to serve. Then pour and enjoy.
Keto low carb Lemon glazed bars recipe:
Once you have all the ingredients available in your kitchen, you bring them together according to the following recipe. This recipe is enough to give you enough cookies to serving 12 individuals. If you are a family of 6 or less, then you can always store the excess in a cookie jar or in the refrigerator. Or simple bake cookies using half of the batter or cut down the overall proportion of the ingredients to half.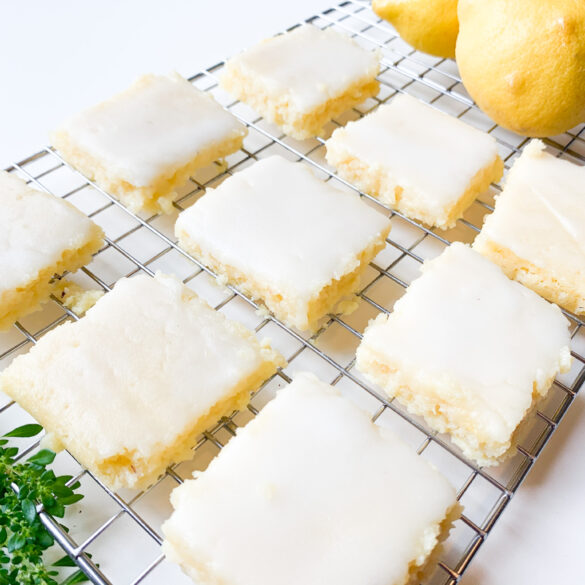 Ingredients
1/4 cup cream cheese full fat

1/4 cup butter unsalted

5 tbsp powdered erythritol

1 egg medium

4 tbsp lemon juice

2 cup almond flour

zest of 1 lemon

Lemon Glaze

1/4 cup powdered erythritol

1.5 tbsp lemon juice

lemon zest, to taste
Instructions
Beat the butter, 4 tbsp lemon juice, powdered erythritol, cream cheese, and lemon zest until smooth. Beat using a food processor or an electric mixer.
Stir in egg and mix until well-combined. Now add almond flour and mix well to make the cookie dough.
Wrap the lemon cookie dough it in plastic cling film and refrigerator for 30 minutes or freeze for 10 minutes.
Meanwhile, pre-heat the oven to 356 degrees Fahrenheit.
Layer a baking tray with a parchment sheet. Make 12 cookie dough balls and place them on the tray, slightly flatten them with your hand.
Bake the lemon cookies for 15 minutes until lightly browned at the bottom. Then remove them from the oven and allow them to cool completely.
Whisk together the lemon juice, powdered erythritol, and lemon zest for the glaze and pour over the lemon cookies.
Serve.
* The nutrition facts provided on this site are estimated values from an online recipe nutritional calculator. I am not a specialist, not a certified nutritionist. For accurate information or dietary restrictions, allergies and concerns, please consult a professional nutritionist or specialist.