These sweet and savory low carb French Toasts are nothing less than a mouth-pleasing delight, and I just love to have them every now and then. And being on a low carb diet couldn't even stop me from having these low carb French toasts, and it was all possible only due to this low carb recipe. These low carb french toasts are not only ideal for your ketogenic diet plan, but they are also great for all the low-carb diets or other healthy meal plans. To make these low carb toasts, you will need to try my low-carb bread that I used to make keto bread from scratch. If you have already tried the recipe and have this low carb bread in your refrigerator, then you make these French toasts in no time. So, let's get started!
How to manage carbs with good flavors?
Before going ahead with this low carb french toasts recipe, let's rewind a little and recall a little about the low carb bread because it is the basic ingredient of this recipe, and if you fail to make yourself a good low carb bread, you will not be able to enjoy delicious ketogenic French toasts. If you are starting from scratch, then bake our low carb bread first. It contains only 2.5 grams of net carb, prepared out of almond and coconut flour, and can be cooked in just one minute. So, I always suggest this quick and simple recipe to everyone who is looking for a low carb bread recipe. I would suggest baking it at least 1-2 hours before making the French toast so that the bread slice would get firm and dry. Or if you don't have enough time to wait around, then cook it before making French toasts and then allow it to cool while making the French toast's coating material.
The low carb alternatives:
For this simple keto breakfast recipe, you will need to get some low carb alternative to preparing the toast coating. All French toasts are prepared out of bread coated and seared with egg and milk batter. In this keto recipe, I am using the following substitutes to turn this breakfast into a Low Carb French Toast.
Almond milk:
Since animal milk is not keto-friendly, due to its high carb content, we need other plant-based liquids which can serve the purpose. Almond milk is a commonly used low carb alternative that is used in most of the ketogenic meals and low carb desserts. So, I also use almond milk to make these French toasts. You need to distinguish between the almond-flavored milk and the almond milk, as it is easy to confuse the almond flavor milk with the milk that is extracted and processed out of nuts. You can do it by reading their labels in detail. The pack must say that it is dairy and gluten-free. Since I don't rely much on the market packed products, I like to make low carb almond or soy milk at home. Remember that it does it have the same taste and consistency as the animal milk, but it will still make delicious French toasts.
Low carb sweeteners:
If you want to enjoy carb-free meals or low carb snacks and desserts then develop a good understanding of all the low carb sweeteners, it will help you in the long run. I am using erythritol sweetener for this recipe, as its taste, sweetness, and texture are suitable to make these toasts. You can use other options while keeping their flavor and sweetness into consideration, including swerve, stevia, monk fruit, xylitol, and Yacon syrup.
Serving ideas for this Low Carb French Toasts:
Sour Cream or whipped Cream:
This is a relatively safer option as all types and varieties of sour Cream, or unsweetened whipped Cream are free from carbs. You can add a dollop of these creams on top of the French toasts before serving them or simply spread them on each toast to enjoy a new combination of flavors. Melt butter also makes an excellent topping.
Mixed Berries:
Berries are the healthiest option on every low-carb menu. You can either use fresh strawberries, blueberries, or a mix of berries of serve on top of the French toasts. You can also puree the berries together to make an instant spread for your French toasts. Avoid using sugars or artificially sweetened products.
Maple Syrup:
I like serving these French toasts with maple syrup. And Choc Zero Maple syrup is the best low carb syrup to use for this purpose. And I always add a drizzle of this syrup on top of these toasts and other low carb pancakes that I make for breakfast. This maple syrup is prepared out of monk fruit, it does not contain any preservatives, and there is only 1 g net carb in the syrup.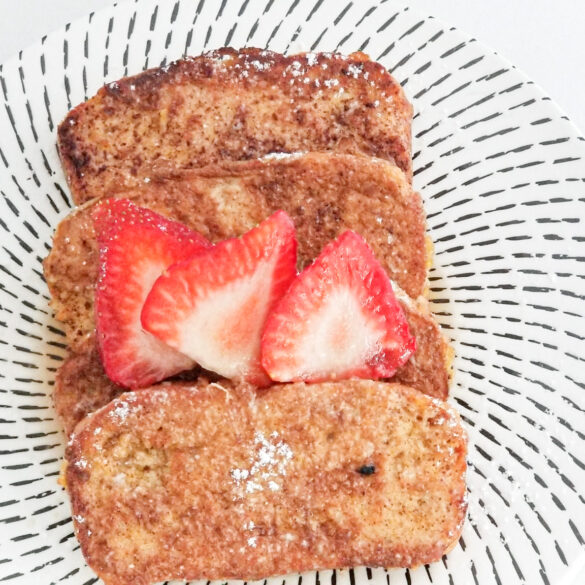 Ingredients
1 large egg

½ tsp cinnamon

2 tsp Erythritol

1/8 tsp vanilla

1/3 butter

¼ cup almond milk, optional (I didn't use for this recipe)

4 keto bread slices (add keto bread link)
Instructions
In a shallow bowl beat the eggs, with cinnamon, erythritol and the vanilla.
Soak each slice of bread into the mixture and coat them well on both sides.
Heat ¼ of the butter in a skillet over medium-high heat.
Add one of the coated slices and cook for 1 per side until golden brown.
Transfer this toast to the serving plate and cook the remaining soaked slices in the remaining butter for 1 minute per side
Garnish them with strawberry, blueberries or choc zero maple syrup.
Serve -fresh and enjoy.
Notes and Tips:
* The nutrition facts provided on this site are estimated values from an online recipe nutritional calculator. I am not a specialist, not a certified nutritionist. For accurate information or dietary restrictions, allergies and concerns, please consult a professional nutritionist or specialist.
New to this healthy lifestyle? don't miss out my starter guide and my ultimate low carb keto shopping list.