This low carb and creamy vanilla flan will become one of your favorite desserts of the year 2021. I instantly fell for this decadent flan when I tried it on this new year's eve. I never thought that a flan made out of low-carb ingredients could be this tasty.
What I love about this low carb and creamy vanilla flan it is its gooey texture and creamy taste. So after many failed attempts I finally came up with the perfect low-carb ingredients.
Let's jump to the part where I share my low carb and creamy vanilla Flan cooking secrets with you.
Low-carb Caramel Topping:
Let's be realistic a flan looks incomplete without its golden and shinny caramel topping!
It was very hard to find a low-carb sweetener with a good taste and a caramel-like color and texture. After trying many low-carb sweeteners, I finally found the perfect one, allulose sweetener!
Every time I want to make low-carb caramel for any type of dish this is my go-to recipe base. The proportions of allulose and water I have used in this recipe are specifically to this low carb flan. You can increase or decrease the overall amount according to your needs.
For this golden, glossy, and gooey caramel I strongly recommend using allulose. What is allulose anyway? Allulose is a low-calorie sweetener used a lot as a regular sugar substitute. Mostly for people following a low carb or keto lifestyle. But it is also great for people with diabetes as it does not spike blood sugar levels. Allulose can be found in dried fruits and is available in granulated and powder sugar.
Just keep in mind that Allulose is less sweet than most of the other low carb sweeteners. If you like your desserts really sweet so you might need to add a little bit extra.
I have also tried Xylitol, but trust me is not even close to allulose for caramel sauce recipes. Please don't be tempted to use Erythritol or a Monk fruit blend; this just calls out for a disaster. First of all, this sweetener does not caramelize well. It might trick you at the beginning but once the caramel has set, It will crystallize. This will make your flan break when flipping.
You can use either granulated or powder allulose to make this caramel, both forms work pretty well. Sometimes I have even combined them.
Don't make this caramel in a rush or high heat for quick cooking. When cooked at high heat, the caramel gets its golden color quicker but a burnt after taste. Cook it on medium-high heat and allow it to cook slowly until it gets the desired color. This is around a 6 in an electric stove. The whole caramel process will take you between 10-15 minutes.
When the caramel turns brown, quickly pour into your baking mold or baking pan. Tip the pan so caramel coats the bottom of the mold evenly. Work fast; caramel hardens quickly.
Also please be very careful with this caramel, you can get burn really bad with it. Always use silicone gloves to protect your hands when pouring.
Making a Low-carb Flan:
Now that I have the perfect caramel topping, its now time to work on the flan mix.
Every flan has this characteristic gooey texture along with some sweetness and there are just so many variations by country. I just wanted to recreate the recipe that I've been cooking for years. For this recipe, we will need eggs, egg yolk, allulose, xylitol, and whipping cream. In addition, I also add some vanilla extract and a pinch of salt to balance out the flavors. I personally don't like my flan super sweet, but this is just me.
So, now that we have all low carb ingredients, let's start mixing up. Prepare the batter and begin whisking the eggs and egg yolk in a bowl. Make sure to use a hand mixer and avoid using any blender or electrical beater to prepare this batter. If you do it will make a froth, which does not give a desired flan-like texture.
Then add the remaining ingredients to the beaten eggs and beat only to mix all the ingredients evenly. Pour the batter into the prepared pan, which already has a layer of caramel at the bottom.
If you don't have the pan I used, don't panic, you still can make it in a regular baking pan. But it will still need to be baked in a water bath at 330 ºF for about 55 minutes.
Once your flan is ready and cooked, it may still appear to jiggle at the center. This is fine because it will set as it cooled down. The tricky part is to transfer the flan to the serving plate. You will have to flip the flan over the plate as quickly as possible.
Check out my complete video making this low-carb caramel flan! I tried to make a step by step that is easy to follow. But please comment below if you have any questions. You can also DM via Instagram or Facebook chat.
I really hope you enjoy making this recipe as much as I did.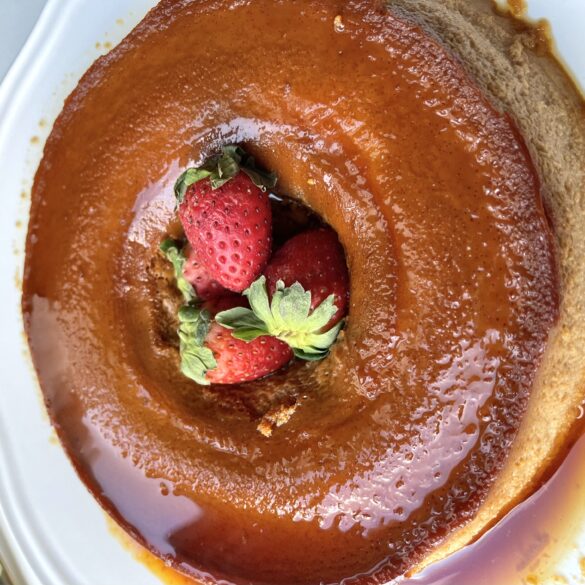 Ingredients
Caramel:

1/2 cup Allulose

1/4 cup water

Flan Mix:

3 eggs

1 egg yolk

1/2 cup Allulose

1/4 cup Xylitol

Pinch of salt

2 cups and a half of heavy whipping cream

1 tbsp of vanilla
Instructions
Caramel:
First, add the Allulose to a saucepan and place it over medium heat.
Cook the sweeteners for about 5 minutes until it is dissolved completely, give it a stir if needed.
Pour in water, and allow the mixture to boil without stirring.
Once it is boiled, reduce its heat to medium-low and cook the mixture until it starts changing its color.
The caramel will take 10-15 minutes of cooking to get the desired golden color.
Make sure to occasionally stir the caramel to prevent burning and uneven cooking.
Pour the prepared caramel at the bottom of a baking pan of a suitable size- I would recommend a 5-7inches round pudding pan for this recipe.
Allow the caramel to set in the pan for 5 minutes.
Flan mix:
Crack all the 3 eggs in a mixing bowl and beat them together using a hand mixer.
Add 1 egg yolk.
Add whipping cream, allulose, xylitol, salt, and vanilla, then beat again until all the ingredients are evenly mixed.
Pour the prepared batter into the prepared pan and place this pan in the hot water bath with the temperature maintained at 330 degrees F.
Cook the flan on this water bath for 55 minutes.
Once the flan is done, place it on the countertop and allow it to cool completely.
Run the sharp knife around the edges of the flan, then place an inverted serving plate on top.
Quickly flip the flan with the plate, then remove the pan from the top.
Slice and serve.
* The nutrition facts provided on this site are estimated values from an online recipe nutritional calculator. I am not a specialist, not a certified nutritionist. For accurate information or dietary restrictions, allergies and concerns, please consult a professional nutritionist or specialist.