Do you want to add the classic caramel sauce to your Ketogenic menu? Are you looking for a low-carb substitute for this finger-licking sweet delight? Then here comes a Ketolicious recipe that will let you enjoy the same salted caramel sauce flavors but with minimum carbs. The keto salted caramel sauce goes well with a variety of delicious desserts, especially cakes and brownies. And I love to add this caramel sauce to the number of dessert toppings as well, so I always feel the need to keep this sauce ready in my refrigerator. A drizzle of caramel sauce on top of freshly cooked waffles or pancakes sounds like an amazing combination for breakfast.
Since there is a wild variety of market-packed caramel sauces available, I never really felt the need to make it at home. It was only when I switched to a ketogenic diet, I started making my own keto salted caramel sauce. And to my surprise, its taste and texture turned out to be far better than the ones available in the market. The caramel sauce I prepare at home is healthier as it is free from carbs, sugar, and preservatives. It can be served fresh, or you can store it in your refrigerator for a month.
Did you say low carb?
To make this keto caramel sauce, you will need to have certain basic ingredients at home. A good keto sweetener is an essential ingredient that you need to carefully pick and chose for this recipe. Low-carb sweeteners come in great variety, but for this recipe, in particular, we would be looking for something that does not crystallize after melting and heating, Allulose and xylitol perfectly fits that criterion. Then you will need some butter, cream, salt, and vanilla extract. The ingredients are easy to get as they are available on all the stores; the tricky part of this recipe is the vigorously whisking. As you cook and mix the ingredients, you need to beat them together until they come together with a smooth sauce. The sweeteners and butter are cooked and mixed together first, then the cream is added. The point where you add the cream to the butter mixture is the most crucial stage of this recipe, and you need to make that you are whisking well.
When you beat the mixture after adding cream, it must get a bubbly appearance on top and a gooey caramel mixture underneath the bubble layer. And then you add the salt and vanilla extract. As you leave the sauce to cool, make sure to give it stir after every 15 minutes.
Then comes the storage, to store this sauce you will need glass jars, preferable cleaned and dry mason jars. Pour the sauce, once it is cooled, into the mason jars, and then seal the lid and refrigerate. It best to use this sauce within a month. You can extend the shelf life of the sauce up to three months by storing it in the freezer.
Keto Salted Caramel Sauce Recipe:
If there is anything that I always want ready and stored in my refrigerator, it is the caramel sauce. It is only because the caramel sauce can be used in a number of ways. Its soothing and rich flavor makes me have it all the time. Try this amazing keto salted caramel sauce recipe and enjoy it with morning waffles, pancakes, and on top of cakes, brownies, muffins, tarts, and ice creams.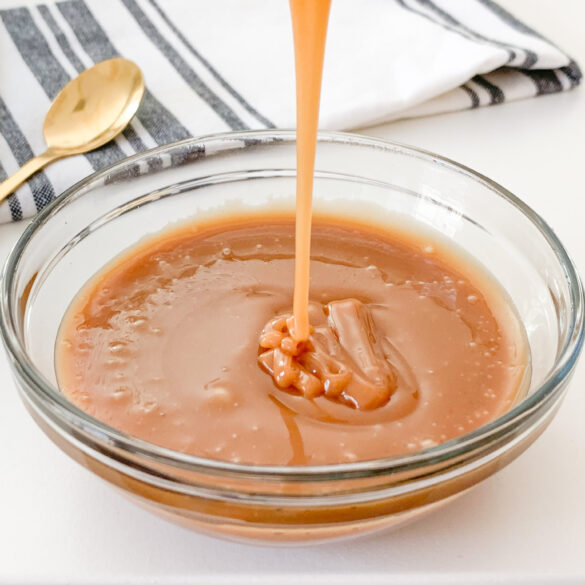 Ingredients
1/4 cup 2 tablespoons of whipping cream

4 tablespoons butter

1 teaspoon vanilla extract

1/2 cup of Allulose or xylitol

1/4 teaspoon salt
Instructions
Add butter along with sweetener to a saucepan and place it over medium heat.
Let the butter melted and stir the mixture continuously until both the ingredients come together as a creamy smooth mixture, whisk vigorously for 1 minute.
Let the butter cook on a simmer for 2 minutes with occasional stirring, until it gets a golden-brown color. Do not let the butter burn during this time.
Once it gets a golden shade, stir in heavy cream and whisk vigorously for 1 minute until it appears super bubbly and gets a caramel sauce consistency under the top bubbly layer.
Remove this prepared caramel sauce from the heat and add salt and vanilla extract then mix well.
Leave the sauce for 10 minutes then transfer to a sealable jar.
Seal the lid and store this caramel sauce in the refrigerator.
To reuse the sauce, first heat the required amount in the microwave for 15 seconds. Stir well and use.
FAQs and Tips:
Q: For how long the caramel sauce can be stored?
If you are storing the caramel sauce in a sealed jar in the refrigerator, then its taste and texture remain the same for up to a month, at least.
Q. What if I freeze the caramel sauce?
Yes, by freezing the caramel sauce, you can increase its storage time from a month to 3 three months. To reuse the frozen caramel sauce, make sure to first defrost it at room temperature then heat it in the microwave before using it. Remember the sauce get thinner and runnier as you heat, so heat only for 15 seconds or less
Q. Why does my caramel sauce crystallize?
The crystallization occurs due to the sugar or other sweeteners used in the caramel sauce. When the sauce is cooked, and the water is evaporated, the granulated sweeteners start to recrystallize again.

Q. Is there a way to keep the caramel from crystallizing?
The best way to prevent the caramel sauce from crystallizing is to use such the sweetener, which won't convert into crystals again. The only reason I have used Allulose and xylitol in the above given recipe is that these sweeteners do not crystallize. Another way is to whisk the sauce vigorously when you are adding cream.
Q. Can I use other low-carb sweeteners to make this sauce?
Yes, you can always use other keto-sweeteners like Monk-fruit or Erythritol. But these sweeteners fail to give the same smooth texture as the Allulose and xylitol provide. Other sweeteners start crystallizing as soon as the sauce cools down. Sure, you will get a good taste, but due to the texture difference, I avoid using anything but Allulose and xylitol
* The nutrition facts provided on this site are estimated values from an online recipe nutritional calculator. I am not a specialist, not a certified nutritionist. For accurate information or dietary restrictions, allergies and concerns, please consult a professional nutritionist or specialist.