This low carb fudge brownies will excite all the brownie lovers and people having a sweet tooth like me.
Low carb fudge brownie has ever been my favorite, I like to serve it on all the special occasions. I call it my "people pleaser" because one bite is it takes to put you in a better mood. Every time I crave a chocolaty, soft, and fudgy delight, I bake these brownies at home. They are super simple and easy to make. Whether you are a pro-home baker or you want to try baking it for the first time. This recipe will help you bake the best fudge brownie in a few minutes.
What makes this brownie different from others is its caramel sauce topping. The sauce adds a mildly sweet and a bit of its saltish taste to the brownie base, which creates an amazing combination of flavors. I know what you must be thinking! "A caramel sauce in a low-carb brownie recipe?" Well, that question also kept me consumed for quite sometimes as I couldn't find a sugar-free caramel sauce. But then I decided to recreate a low-carb keto salted caramel sauce of my own.
Don't think I got it right on the first try. After several failed attempts, I was finally able to find a perfect combination of keto ingredients. (Add KETO CARAMEL SAUCE LINK). In this recipe, we will use only ½ a cup of keto caramel sauce.
Keep this sauce prepared and ready in your refrigerators. It will be very handy for other dessert recipes!
How to Make low carb caramel fudge brownies?
There are several ways to bring the caramel sauce and the basic fudge brownies batter together for this recipe. I have used the caramel swirls style because it not only tastes great, but it also looks great. You can also add caramel sauce in the middle of brownies. Or use caramel sauce as a glaze. Usually, I heat the refrigerated caramel sauce a little in the microwave to make it thinner and runnier. Drizzle the caramel sauce on top of the baked brownies.
To start with, you need to blend and beat the eggs with butter, a keto sweetener, and vanilla. Make sure that the eggs are at room temperature. If your eggs were on the fridge, then leave them at the kitchen counter for at least 20 minutes before you start making the batter.
Then mix these eggs with the rest of the ingredients in a mixing bowl. I use my electric hand better to beat them until they get a bit of creamy, thick, and pale. The change of color will indicate to you when to add the rest of the ingredients.
Once the eggs are beaten, you can start adding the other dry ingredients like the almond flour, cocoa powder, salt, and baking powder.
As you add these ingredients, continue beating your mixture or use a hand whisk to mix them well until the batter is smooth and lump-free.
Final result
The baked brownies will be a bit giggly and fudgy from the center and a bit firm and fluffy from the edges. That's what I like about these brownies; they give you a perfect blend of taste and texture. Check the consistency of the batter.
I normally preheat the oven before I start making the batter, but if you are not planning to bake the brownies right away then preheat the oven only 15 minutes before baking the brownies.
The optimum heating and baking temperatures are 350 degrees F or 177 degrees C for about 20 minutes. These brownies baking time is 15-20 minutes, but mine took 20-25 minutes to get the right texture. Check if your low carb fudge brownie is ready and baked. Make sure the edge is firm, but the center has to be giggly, soft, and fudgy.
Now that your brownies are ready, allow them to cool, then refrigerate and serve as desserts or as a party delight. The freshly baked, hot, low carb fudge brownies taste amazing with a scoop of vanilla ice-cream on top. I have tried this combo, and it tasted heavenly, so I recommend it to all.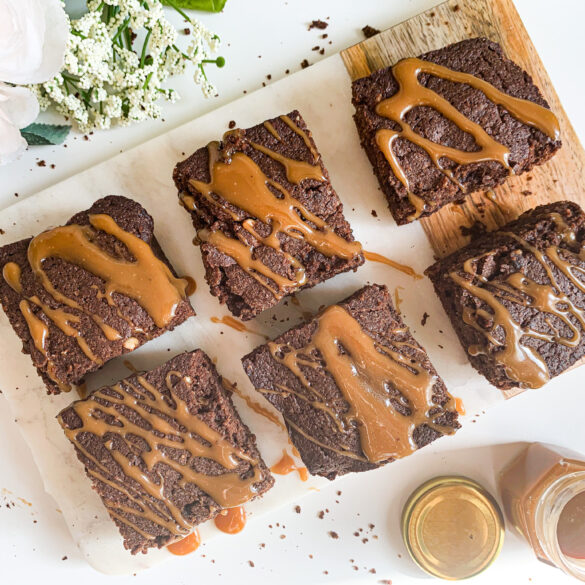 Ingredients
• 1/2 cup almond flour

1/4 cup cocoa powder (unsweetened)

2/3 cup erythritol

1/2 tsp baking powder

8 tbsp butter (or 1 butter stick if using them)

2 tbsp almond butter chunky (optional)

2 oz dark chocolate (unsweetened)

3 eggs room temperature

Keto caramel sauce, to garnish (optional)
Instructions
At 350 degrees F, preheat your oven.
Mix all dry ingredients including almond flour, baking powder, cocoa, and erythritol in a mixing bowl.
Melt the butter in a glass bowl by heating for 30 seconds in the microwave.
Once the butter is melted, stir in chocolate and almond butter then mix well.
Crack eggs in this chocolate mixture and beat well for 2-3 minutes with a hand whisk.
Pour this wet egg-mixture into the dry flour mixture and mix until the batter is lump-free.
Prepare and line an 8x8 baking dish with parchment paper.
Pour the brownie batter into this dish and spread it evenly with a spatula.
Bake the brownie batter for about 20-25 minutes in the preheated oven.
Allow the brownies to cool then slice them into bars (optional)
Drizzle the caramel sauce on top.
Enjoy!
* The nutrition facts provided on this site are estimated values from an online recipe nutritional calculator. I am not a specialist, not a certified nutritionist. For accurate information or dietary restrictions, allergies and concerns, please consult a professional nutritionist or specialist.