When I tried these flourless low carb keto pancakes recipe for the first time I wasn't sure what to expect, no flour, not even almond flour? how? But I decided to give it a try and I'm so glad a did. It takes some practice to make it right, but when you do you will have the best guilty free pancakes on earth.
The idea of mixing the egg whites until stiff peaks forms makes the difference. These flourless low carb and keto pancakes are so fluffy and sponge, that it's hard to believe they have no flour. I made these with blueberries, but to be honest, you can choose any other type of fruits and even unsweetened chocolate chips. The benefit of these flourless low carb keto pancakes is that it gives you the option to create your very own version.
Be patient when cooking the low carb keto pancakes as it would take a little bit more time to prepare than when using blanched almond flour. Pay attention to the heat as well; medium heat would be ideal. Before flipping them, make sure again that they are fully cooked, so they don't fall apart.
The xanthan gum is also crucial here; since these pancakes have no flour, we need to make sure they stay together, especially when flipping them. This ingredient acts as a binding agent, making the pancakes strong but fluffy enough not to fall apart. Another ingredient option to use here is the psyllium husk, it has the same property and effect. I try to avoid this ingredient when baking almond and coconut flour because I feel it is too chewy, but you can give it a try with this recipe.
Within the recipe and ingredients card, you will find some of the ingredients I use with a link to Amazon. I don't get all of them from there, but is the most efficient and easiest way to show you which brand I'm using. I get them from my local stores for the most part and some other from Amazon when I cant find them.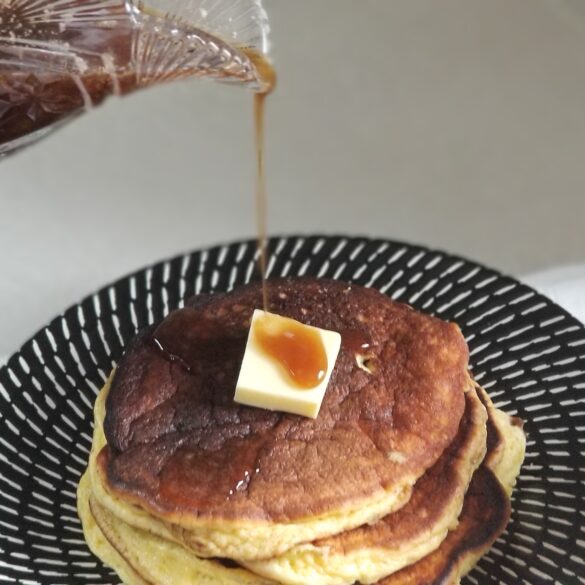 Ingredients
4 eggs

4 oz full cream cheese softened

1 tsp of cinnamon

1/2 tsp of vanilla extract

1/2 tsp of cream tartar

1 tbsp of baking powder

1/2  tsp of  xanthan gum

1 tbsp of erythritol 

1/2 cup blueberries
Instructions
Follow these steps:
Separate two large eggs, placing the whites in a large bowl and the yolks in a smaller bowl.
Add creme tartar to the egg whites. 
Beat the egg whites with an electric hand mixer on medium-high speed until stiff peaks form. Set aside.
Get the two yolks, add the room temperature cream cheese and mix. 
Then add the rest of the ingredients, but the blueberries (the erythritol,  the vanilla, the cinnamon, and the baking powder) mix well.
Incorporate the eggs whites into the yolks batter, little by little with circular motions. You don't want to mix this like you usually do because it would take out some of the fluffiness.
Tips and Notes:
It is very important to mix the egg whites until stiff peaks form.
Incorporate the egg whites stiff peaks batter little by little with the yolks mix. We don't want to remove that fluffiness to the mix.
Make sure it's well-cooked before flipping and ensure the spatula reaches almost to the end of the pancakes during this process.
* The nutrition facts provided on this site are estimated values from an online recipe nutritional calculator. I am not a specialist, not a certified nutritionist. For accurate information or dietary restrictions, allergies and concerns, please consult a professional nutritionist or specialist.
If you are more in the salty side of foods, try my delicious cloud bread, the recipe is pretty similar to this one, but these are the perfect bread options, for soups, hamburger buns, and even as pita bread!