I've read in some books that this recipe for low carb Keto cloud bread was actually an accident that came out of a mistake from Dr. Atkins revolutions roll, and they are called "Oopsie rolls." Mistake or not, this low carb keto cloud bread is very versatile and bound to be a staple in your low carb keto diet.
This low carb keto cloud bread is super easy, so it's really become a go-to for me. I'm just not interested in recipes that take up all my time and are extremely complicated. I love to cook a lot, but a woman has only so much time in her day! So, for now, I'll stick with favorites like this one. And it's not just for those of us on the low carb keto diet – anyone can enjoy these!
I'll often use it for a sandwich and as a snack. Since it's so easy, it's fantastic for any meal because it's practically impossible to mess up; just follow the directions for each step and watch the bread carefully to make sure that it does not burn. (They are better enjoyed when cool, anyway, in my opinion.)
So what is the best way to enjoy low carb keto cloud bread? Well, there's not really one answer to that as this recipe is just so versatile. I find myself reaching for it time after time. Try it with garlic or any of your other favorite seasonings. For a sweet twist on the recipe, try my tasty flourless low carb keto pancakes. Or, you can even mix in shredded cheese to bake into the bread.
This low carb keto bread is perfect as a stand-in for sliced bread, hamburger buns, and pita bread, and is great with a salad. These are also great for breakfast or for any meal that requires a little bit of bread (like a soup, or try my keto lasagna). It's also fantastic just as a toast and can stand-in for a tortilla, too. Bottom line: I eat it nearly with everything.
I'll often bring it with me for my work lunch either as a sandwich or as a side to a salad. The low carb cloud bread is stable enough that it can keep its integrity as sandwich bread from when I pack it the night before all the way to my lunch break at work, all without getting soggy or falling apart.
As a note, the Xanthan gum is totally optional, but I feel it helps with the bread consistency and binding everything together. A lot of people actually use psyllium husk, but to be honest, I'm not a fan of it because it makes the bread too dry and chewy; it can work in a pinch, though. Both of them act as a stabilizer, thickener, and foaming agent, giving this low carb bread its "cloud" texture. The Italian seasoning is also optional, but in reality, the low carb bread tastes like almost nothing without seasoning of some kind. Use this or other seasoning depending on what you plan to use the cloud bread for.
Since these are optional, that means that you really only need four ingredients for this bread, which makes it a cinch. If you have an electric mixer and make sure you've brought your cream cheese to room temperature, this will whip up in no time (no pun intended).
If you make this awesome cloud bread, share and comment with a pic of your creation!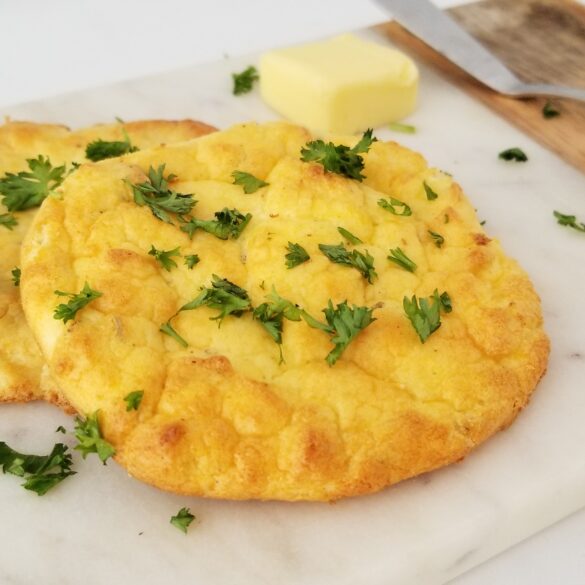 Ingredients
2 eggs (separating the whites and the yolks)

½ tsp Cream of Tartar

¼ tsp of Xanthan Gum

½ tsp Baking Powder

2 oz of Cream Cheese

1 tsp of Italian seasoning ( 1 ½ tsp of dried oregano, 1 tsp dried thyme, ½ tsp dried basil and ½ tsp dried rosemary)
Instructions
Preheat oven to 350°. Put parchment paper on a baking dish.
Separate the egg whites and the egg yolks.
In a medium-size bowl with the egg yolks, add the room temperature cream cheese, xanthan gum, baking powder, and Italian seasoning. Beat with a hand mixer. If you don't have one, you can mix by hand, but everything must be very well combined. Set aside.
In a large bowl with the egg whites, add the cream of tartar (this is optional) and mix with a hand mixer until stiff peaks are formed.
Place the yolk batter into the stiff peak egg whites. Mix and fold gently, so it keeps that foamy and fluffiness consistency.
Once it is all combined, spoon 1/3 cup portions of the mix and spread into the prepared baking dish. Don't put them to closer together, and they will naturally spread.
Bake the bread between 15- 25 minutes (it will depend on your oven), or until the cloud bread is golden outside and firm.
Tips and notes:
Make sure the egg whites are mixed until stiff peaks, and as a test, you should be able to put the container upside down, and they should not fall. You will see this trick in my video.
When mixing the egg yolks with the rest of the ingredients, don't over mix it; it should have a smooth consistency.
While the cloud low carb bread is baking, keep an eye carefully; they can get burnt quickly.
Let them cool for several minutes, as they are very fragile while hot.
They can be stored in the fridge but are best if consumed in the next 2-3 days after making them.
If you are going to reheat them, use low heat as they can get burnt easily or get saggy.
* The nutrition facts provided on this site are estimated values from an online recipe nutritional calculator. I am not a specialist, not a certified nutritionist. For accurate information or dietary restrictions, allergies and concerns, please consult a professional nutritionist or specialist.