If there's one thing I miss the most, is having a delicious low carb keto lasagna without losing my healthy lifestyle focus. Let me tell you this is by far in terms of consistency, the best "noodle" option.
It seems like a lot of effort, but to be honest, it is super easy, and it's the same process as your regular lasagna. The only difference, of course, is the noodle, but again it would take you less than 20 minutes to make them. You throw everything on the food processor or mix it by hand, and that's it.
Gallery of the process
This option is great for both lunch and dinner, and the best part, it would last for a couple of days, perfect for those busy office days. I usually make this low carb keto lasagna on Sundays to meal prep for the week, but they are great for any given day, especially to surprise your guests at home. They bearly believe it has not pasta noodles.
New to this healthy lifestyle? No worries, we got you covered. Go to our "get started" section to learn more about my journey and how I did it.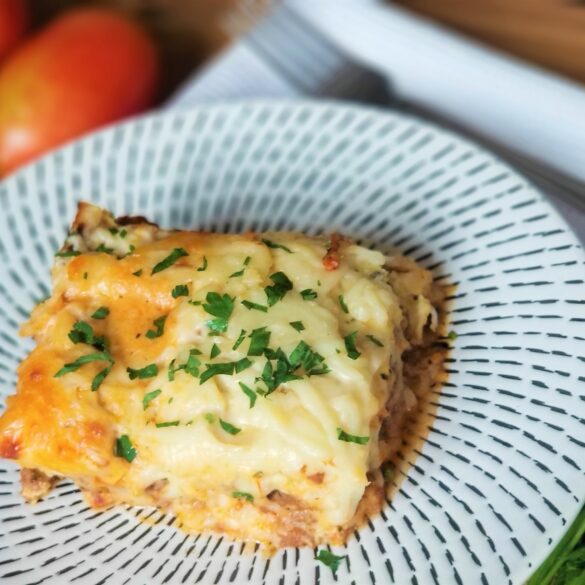 Ingredients
Lasagna "Noodles"

2 large eggs

1 tsp Italian seasoning

4 oz full cream cheese softened

1 1/2 cups shredded mozzarella cheese

Lasagna Filling

Meat (Ground beef or any of your choice)

1 tbsp garlic

1/4 cup onion minced

1/4 tomatoes diced

1 lb ground beef  (or any other kind)

1 cup marinara sauce (no sugar added)

1 tsp Italian seasoning

1 tsp salt

Ricotta mix

1 egg (This allows the filling to stick together). No one likes a messy lasagna.

1/2 cup  ricotta cheese

4 tablespoons chopped fresh parsley

1 tsp Italian seasoning

1 tsp salt

1 1/2 cups shredded mozzarella cheese

Alfredo or bechamel sauce (low carb, no sugar added)
Instructions
Preheat oven to 350F. Line a 9 1/4 x 14-inch baking pan with parchment paper. Please make sure you use parchment paper, not wax paper. They can really make the difference. Once in the oven, the dough would be kind of sticky to the paper; parchment paper makes it so easy to pull the "noodles" out.

Soften the cream and the mozzarella cheese in the microwave (using 20s intervals and mixing). You don't want to give more time than this because they can easily get burnt. 
Once it has a thick liquid consistency, you can add the eggs and the Italian seasoning. Mix well evenly. You can also use a food processor, but I like mixing it by hand.
Another option, is softening only  the cream cheese and then mixing with the shredded mozzarella, eggs, and the Italian seasoning. The results are the same. This option is easier to spread across the baking dish.
Pour the cheese/eggs batter into the prepared baking pan with parchment paper. Spread the mixture across the pan with a spatula.

Place the baking pan into the oven and bake for about 15-20 minutes, or until the surface is goldish/brownish. Let the cheese noodles aside to cool.

While the cheese dough noodles are being cooked and then cooling, prepare your meat. I mean, time is precious!

In a skillet pan, add the garlic, onion, dices tomatoes, and ground beef. Cook on medium heat until meat is brown.  Then add the Italian seasoning and marinara sauce.  Cook in medium heat, then let it simmer. Don't let the meat to dry that much, as we need it to be as juicy/marinara sauce as possible.

Ricotta mixture. Mix all ingredients together but the Mozarella cheese as it is for each layer.
My favorite part (Ensambling the Lasagna):
Cut the cheese noodles evenly in 3 slices.  I normally use a 6 1/2 x 8 casserole, and it fits perfectly. Depending on the casserole I'm using I sometimes I  need to cut the noodles in more pieces to cover 
Place one noodle into your casserole, put half of the meat and then half of the ricotta mix, spread evenly, and then, if you are a cheese lover like me, you can also add more cheese (mozzarella).
Add the second noodle, and press a little so that everything stays in place when you serve the lasagna. Repeat step 2.
Add the last noodle, press a little again, and then pour the alfredo sauce and more cheese.
When in the oven, don't overcook it. Remember everything is cooked already, the idea is to give some time for the flavors to mix well. 
Sprinkle some fresh parsley and enjoy it!
Tips and notes:
For the ground beef, use any seasoning of your preference honestly.
Using parchment paper is super important.
*
* The nutrition facts provided on this site are estimated values from an online recipe nutritional calculator. I am not a specialist, not a certified nutritionist. For accurate information or dietary restrictions, allergies and concerns, please consult a professional nutritionist or specialist.