These low carb mini waffles are a healthy and delicious breakfast option to kick start your day. Even since I have been on this healthy lifestyle, I have been looking for some interesting and simple low-carb breakfast ideas for the table. So, I tried this low carb mini waffles recipes, and to my surprise, the taste turned out to be better than what I expected. Now I love to make these waffles every now and serve it with my favorite low carb toppings. What I love the most about them is that you can keep or carry them in your lunch box, so even when I don't get the time to have my breakfast before leaving for work, I pack and carry them with me. So, here it comes the easiest low carb mini waffles recipe to enjoy on your low-carb menu.
How to make Low Carb Mini Waffles?
The problem that most of us low carb dieters encounter every day is to find a low carb substitute for our everyday meals. Whether it's the pancakes or waffles, no one can resist them for too long. Usually, pancakes and waffles are loaded with carbs, and a low-carb dieter can't even think of having them every now and then. So, the idea was to convert the same high carb waffle batter recipe into low carb. It wasn't that difficult, but the only problem I had was to set the proportions right. Unlike all-purpose or any wheat-based flour, the flour I used for this is different in taste and texture. So, I had to adjust the proportions of other ingredients according to the taste and texture of the waffles I wanted. So, here are the low-carb ingredients that you can best use to make this delicious low-carb meal:
Blanched Almond Flour
For low-carb desserts, ketogenic snacks, or keto breakfast, the blanched almond flour is always the first choice. The reason being the taste and texture of this flour. When the flour is processed out of blanched almonds, it turns out to be finer in texture and lighter in color. So, it proves to be a perfect alternative to the all-purpose flour. Today, there are many brands that are offering quality blanched almond flour, and you can pick any. I mostly prefer using Bob's Red Mill blanched almond flour. However, if you are out of this option, then use other low-carb alternatives like unblanched almond flour, coconut flour, or an almond meal, etc. The texture of your mini waffle will depend on the use of this flour. So, choose wisely.
Sweetener- Erythritol
When you want your waffles to be sweet and savory, then the batter must be added with some sweetener. For these low-carb waffles, you can use erythritol instead of sugar. There are other keto sugar substitutes as well, like swerve, monk fruits and stevia, etc. Add them to the batter while keeping the taste in balance. About half a tablespoon of erythritol is enough to sweeten the batter of 4 mini waffles. I personally don't like my waffles to sweet, because the sugar-free syrup will add that sweetness needed. Most of the time I even add a pinch of salt to the batter, because I just love the salt/sweet flavor combination. I know a lot of people don't like this, but this is totally optional.
The rest of the ingredients that I used for this recipe are the same as they are any other waffle recipe. Besides almond flour, and erythritol, you will need an egg, xanthan gum, baking powder, some salt, vanilla extract, and melted butter. And lastly, you will need a small-sized waffle maker.
So, before you start making the batter for these low-carb waffles, make sure to prepare the mini waffle iron. Clean it, if it needs cleaning then plug in the appliance and allow it to preheat until the batter is ready for cooking. Now measure out all the ingredients and mix the dry ingredients in one bowl and beat the egg and other wet ingredients in another bowl. Then mix both the mixtures together in a mixing bowl using a hand beater. Beat until the batter is lump-free and smooth in texture. Now you can add ¼ of the batter into the waffle iron and let it cook according to the machine's instructions.
Serving Options for these low carb mini waffles:
Low carb mini waffles always taste great when they are served with an interesting combination of toppings. For a low-carb diet plan, we have a few delicious options to go with, for instance:
Choc Zero Maple Syrup (Sugar-free)
Fresh strawberries, blueberries or raspberries, etc.
A dollop of whipped cream or sour cream.
Sugar-free chocolate syrup
With the net carbs of 3 gram, these low carb mini waffles are a must to have on your healthy menu. So, give this recipe a try and make your low-carb menu delicious and exciting.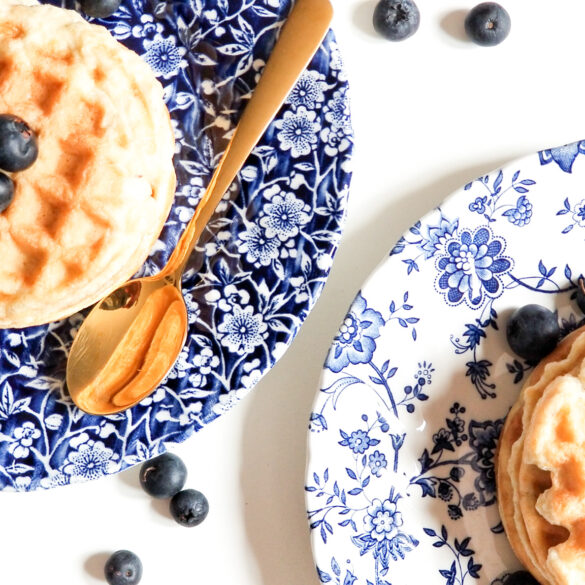 Ingredients
3/4 cup blanched almond flour

1/2 tsp Xanthan Gum

1 tsp baking powder

1/2 tbsp erythritol

1/4 tsp salt

1 egg

1 tbsp melted butter

1/2 cup almond milk

1/2 tsp vanilla
Instructions
Prepare and preheat your waffle iron.
Take a medium-sized bowl and add all the dry ingredients then mix them together.
In another suitable bowl, mix all wet ingredients with a hand mixer.
Stir in dry mixture and mix until the mixture is lump-free and smooth.
Add ¼ of the waffle batter into the preheated waffle iron.
Cook the batter until it makes golden brown waffles with 4 inches thickness.
Use the remaining batter to make more waffles.
Serve them with your favorite topping.
Notes
Storage and Tips: 1. To keep the size of the waffles small, take only 1/3 cup of the batter and add it to the waffle maker. 2. If you are using a normal-sized waffle maker, then make 2 waffles out of this batter. 3. Do not store the cooked waffles for more than 4 hours as they will get soft and soggy. Store the waffle batter instead and make the waffles only when you are ready to serve.
* The nutrition facts provided on this site are estimated values from an online recipe nutritional calculator. I am not a specialist, not a certified nutritionist. For accurate information or dietary restrictions, allergies and concerns, please consult a professional nutritionist or specialist.