These almond flour low carb keto bagels are perfect for breakfast or brunch. They taste so good that people can't believe they have no all-purpose flour. Of course, the consistency is a bit different but yet really cheesy and delicious. This recipe base will be very helpful to prepare dozens of other recipes, so if you become an expert preparing this one, you have nailed a bunch of other succulent dishes. This cheese mozzarella dough is the infamous "fathead dough" and it can be used to prepare low carb empanadas, keto low carb pizza crust, even tortillas, and many more.
When I started this lifestyle, almond flour low carb keto bagels became my #1 bread alternative, as it was challenging at the beginning not to eat bread, but you kind of get use too, especially if you can still have low carb keto substitutes. Don't get me wrong the idea is not replicating all high carb food and make them low carb, is understanding what you are putting into your body and how can that affect your health in the long term.
For this recipe, ingredients are very easy to find and inexpensive so that gives them an added value. When I started I had to learn about ingredients that I had no idea of their existence, and made me wonder how in the world people using them found them anyways? Ok ok, maybe we can discuss this in another occasion :). The point is, I will only provide you with recipes easy to follow, inexpensive, and tasty.
New to this healthy lifestyle? don't miss out my starter guide and my ultimate low carb keto shopping list.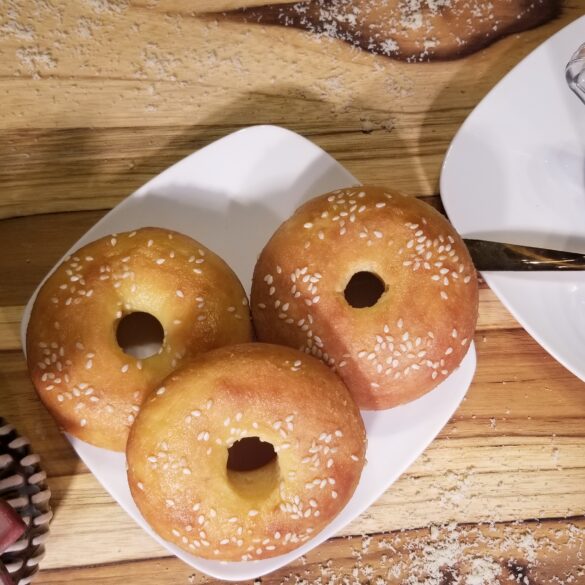 Ingredients
4 oz cream cheese

2 large eggs

2 1/2 cup Mozzarella cheese shredded

1 1/2 blanched almond flour

1 tbsp Baking Powder

1 tbsp sesame seeds (optional)

Italian seasoning (optional)- add link
Instructions
Preheat the oven to 350 F.

In a bowl, mix together the mozzarella and the cream cheese. Microwave for about 1 minute until soft and mix (use 20s intervals, mix, and back to the microwave). 

Then add the eggs to the previous bowl and mix all together very well.

In another recipient mix all dry ingredients (almond flour, baking powder, and the Italian seasoning).

Pour the dry mix into the cheeses and eggs bowl. Mix together until a dough is formed (similar to bread and pizza dough).

Use a non-flavor oil on your hands to work with the dough.

Cut the dough in 6 pieces and form the bagels. You can also use a silicone mold. I use this one I got on 

Amazon.

Spread and push a little the seeds.

Put the bagels for about 15-20 minutes in the over. It will depend on your oven, so check them every now and then. You don't want to overcook them.
Notes and tips:
If the dough gets too sticky, you can do the following:
Put it in the fridge for about 20 minutes, so you can work with it and cut it in 6 pieces or
If you use the silicone mold. It doesn't matter if it is sticky; take a spoon and a fork and spread the mix within the mold. You will still have six delicious and golden bagels.
I would store them in the fridge. The bagels only last from 2 to 3 days over the counter (as they don't have any preservatives).
If you fridge the bagels and if even if you don't, reheat them for about 20 seconds in the microwave before eating them for a smoother consistency.
* The nutrition facts provided on this site are estimated values from an online recipe nutritional calculator. I am not a specialist, not a certified nutritionist. For accurate information or dietary restrictions, allergies and concerns, please consult a professional nutritionist or specialist.