Are you missing that heart-warming sweet smell of freshly baked cinnamon rolls? We all know nothing can stop us from having our most favorite delight, not even the carbs! So, here comes a low-carb cinnamon rolls recipe to die for, as these cinnamon rolls are not only healthy and free from high carb sugars and flours but are they are equally sweet and delicious· Ever since I switched to a low carb diet, I am always searching for healthy, and delicious keto low carb dessert recipes. To be honest, the first time I went ahead with this recipe, I was a bit concerned about the final taste and texture of these cinnamon rolls. But when I served them at the table, it wasn't just me who instantly fell for great irresistible taste, but everyone in my home and the guests visiting then loved them. And nobody couldn't even realize that those cinnamon rolls were free from any high carb ingredient.
The first time I tried the basic cinnamon rolls recipe on my low carb menu, it felt something was missing out, and then I realized that a low-carb cinnamon rolls glaze or a creamy topping can make this dessert complete. So, I worked out with low-carb alternatives to make a glaze and then served those cinnamon rolls with the prepared glaze. The result was even better than the last time because the glaze makes the rolls soft and juicy. And the best part is that the glaze can be prepared at the last minute before serving. So, what I do is that I keep glaze ready in a nozzle bottle and then pour it over the cinnamon rolls just minutes before the serving. Or you can serve the glaze along with the rolls so that everyone could pour it over their cinnamon rolls as per their liking.
How to Make Low-carb Cinnamon Rolls?
Well, to make these delicious cinnamon rolls at home, you don't need to travel miles to get all the required ingredients. Just visit your nearby grocery store, and you will probably find all the ingredients in one place. Since these cinnamon rolls are low-carb, you will need to find all the low-carb alternatives of the ingredients that we normally use to make baked items. Or, if you are on a ketogenic diet, you will probably have them stocked in your kitchen cabinets. While there are several ways to put these ingredients together, I use this combination, which gives me the perfect texture and taste every time. So, if you don't want to risk it, then follow this recipe and use the exact proportions of ingredients. Or if you are making cinnamon rolls for more servings than double the ingredients while keeping up the exact ratios.
Well, there are a number of ingredients that are used to make this recipe perfect, but the main ingredients that you need to focus on and be extra-careful about are, are the following.
Blanched Almond Flour:
It is a commonly used low-carb flour substitute, which is used for baking a number of baked goods like keto muffins, keto bread, low-carb cakes, etc. I use blanched almond flour, which is processed out of the blanched almond nuts, and it is perfect for getting the desired texture in your cinnamon rolls. However, you can also go for other low-carb flours like coconut flour to make these rolls, if almond flour is not readily available.
Mozzarella Cheese and Cream Cheese:
The cream cheese and mozzarella cheese are added to the recipe not just to get a taste and good texture, but it also increases the fat content of these cinnamon rolls, which makes it a perfect keto dessert. This is the kind of fat I'm happy to consume.
Low-carb Sweeteners:
Here is am using a combination of different low sweeteners, i.e., erythritol and brown swerve, to sweeten the cinnamon rolls. These sweeteners are equally sweet as the table sugar so you can use them in a good amount. Whereas other low-carb sweeteners like stevia are extremely sweet, so they are not suitable for this recipe.
New to this healthy lifestyle? don't miss out my starter guide and my ultimate low carb keto shopping list.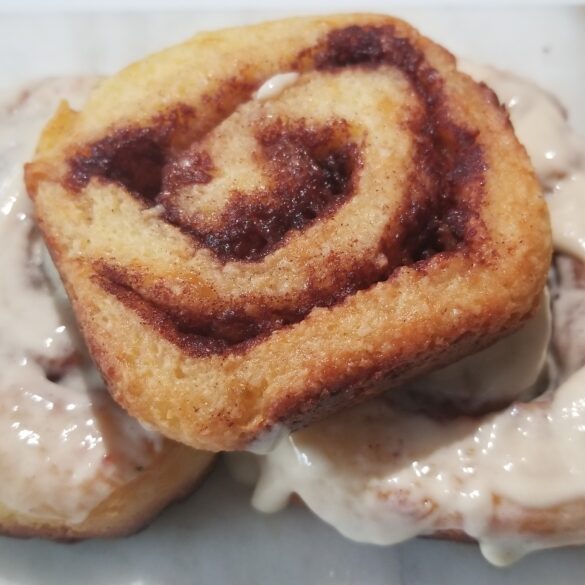 Ingredients
4 oz cream cheese

2 large eggs

2 1/2 cup Mozzarella cheese shredded

1 1/2 blanched almond flour

1/2 tbsp Baking Powder

½ tsp xanthan gum

¼ cup melted butter

Filling:

2 tbsp Erythritol (Lakanto)

1 tbsp Erythritol (brown sugar- Swerve)

2 tbsp cinnamon

Glazed

¼ cup erythritol glass

1/3 cup almond milk or milk cream
Instructions
Preheat the oven to 350 F.
In a bowl, mix together the mozzarella and the cream cheese. Microwave for about 1 minute until soft and mix (use 20s intervals, mix, and back to the microwave).
Then add the eggs to the previous bowl and mix all together very well.
In another bowl, mix all dry ingredients (almond flour, baking powder, xanthan gum).
Pour the dry mix into the cheeses and eggs bowl. Mix together until a dough is formed (similar to bread and pizza dough).
Use a non-flavor oil on your hands to work with the dough.
Knead the dough until it is spreadable, around an 8 X 6 rectangle
Brush the melted butter, and then sprinkle the filling (cinnamon, and erythritol mix) into the spread dough.
Roll over the dough carefully, using parchment paper and cut t in 6 pieces.
Place each roll into the baking loaf pan. Brush a little bit of butter (optional)
Put the cinnamon rolls for about 10-15 minutes in the oven. It will depend on your oven, so check them every now and then. You don't want to overcook them.
Notes and tips:
If you won't eat them right away, keep the cinnamon rolls sealed and packed in a container until you are ready to serving.
In an airtight container, these cinnamon rolls can last for 5 days, even without refrigeration.
For prolonged storage, you can keep them in the refrigerator.
And just before the serving, then reheat them for 20 seconds in the microwave on low heat to keep them soft and smooth.
Do not pour the glaze until the cinnamon rolls are ready to serve. Otherwise, the cinnamon rolls get too soggy till the time of actual serving.
I often enjoy these rolls with a cup of coffee, and I would recommend the same to all as the combination tastes heavenly.
It's about time to give this keto, low-carb cinnamon rolls recipe a try to expand your keto and low carb dessert menu and tell your friends and family that it is possible to manage good flavors with good health. Enjoy the warmth and sweetness of these cinnamon rolls, and feel free to share your experience with others as well.
* The nutrition facts provided on this site are estimated values from an online recipe nutritional calculator. I am not a specialist, not a certified nutritionist. For accurate information or dietary restrictions, allergies and concerns, please consult a professional nutritionist or specialist.