A perfectly cooked low carb keto Salmon is just the right fit for your Ketogenic or low carb menu. And the recipe I am about to share today is going to offer the same with minimum cooking efforts and maximum nutritional value. Ever since I have switched to a low carb lifestyle, finding healthy and rich yet simple and effortless recipes has become my ultimate goal.
Freshly cooked salmon fillets glazed with garlic butter sauce was everything I ever wanted: a perfect combination of healthy proteins and much-needed fats for a low carb diet. It can be served as a fancy dinner or as a lunch with a wide variety of side meals, and that is another good reason why I find this Low carb keto salmon recipe tempting.
How to make flaky and moist Salmon Fillets:
For some people, Salmon doesn't seem like a good option for a meal; they either find it tasteless or too chewy. Well, as per my personal experience of cooking this fish and trying it every now and then, it's not the salmon meat that has no taste or has a rubber-like texture, but it is actually the cooking style and a particular recipe that is at fault. You see, when a salmon fillet is not cooked correctly or overcooked with an inappropriate combination of spices, then it turns out to be tasteless, dry, and chewy. You can enjoy a delicious salmon meal by using the perfect cooking time and a recipe filled with a balanced combination of spices and seasonings.
For this reason, this ketogenic salmon recipe comes with a delightful butter sauce, which not only infuses mild earthy flavors but also keeps the fillet moist and flaky from inside out.
Low Carb Keto Butter Garlic Salmon
The next big secret of enjoying a flaky and moist Salmon fillet is to buy quality fish from the market. I usually get fresh salmon fillets or half side of the salmon fish from Aldi or Sam's club. A standard salmon fillet comes with a net weight of 4 oz; you can get 4-8 fillets to cook a complete meal as per your serving size. I prefer buying half side of whole salmon fish, which provides around 8 fillets, and each weight around 4 ounces. I usually cook about 4 fillets at a time while freezing the rest for later use. The four fillets serving is more than enough for my family of 2; whenever we feel like enjoying a fancy meal, I cook a lovely platter of salmon fish with butter sauce.
To cook a low carb keto salmon, I use a balanced mix of spices. I first use a little bit of olive oil and then the spices. I next place them in the oven. Baking makes the fillets crispier on the outside; alternatively, you can also try Air frying the seasoned Salmon if you have an Air Fryer at home. In whatever way you cook the fish, remember two important things. First, is to season the fillets liberally, then cook them on the exact temperatures as stated in the recipe. For a maximum of 20 minutes. Any time more than that will spoil all the taste and texture for you.
I would recommend checking the doneness of the fish after 15 minutes of baking. Insert a fork through the thickest part of fillets and see if it has lost all its pink color, and the meat is flaky, then the Salmon is ready to serve.
Low Carb Keto Salmon Fillets Serving Options:
Being on a low carb menu doesn't mean limited choices; it doesn't mean either stop enjoying quality food. There are several options to make this salmon meal complete. Since fish fillets with butter sauce are a good source of proteins and fats, the side meal must be rich in fibers, minerals, and vitamins to make it an excellent nutritional package. Roasted asparagus sticks are my personal favorite; they taste great and turn out to be super crispy and crunchy after baking; moreover, asparagus is a good source of fibers and many phytonutrients. But if you don't like to serve asparagus on the side, there are several other low carb meals or low carb vegetables that you can help along, for instance, sautéed Brussel sprouts, roasted green beans, or baked cauliflower florets.
I must admit that while I was making this recipe, plus making the video and picture, I was so hungry that my stomach was making all kinds of noise. Anyways, in the end, the wait was all worth it; this was so delicious that it didn't last.
---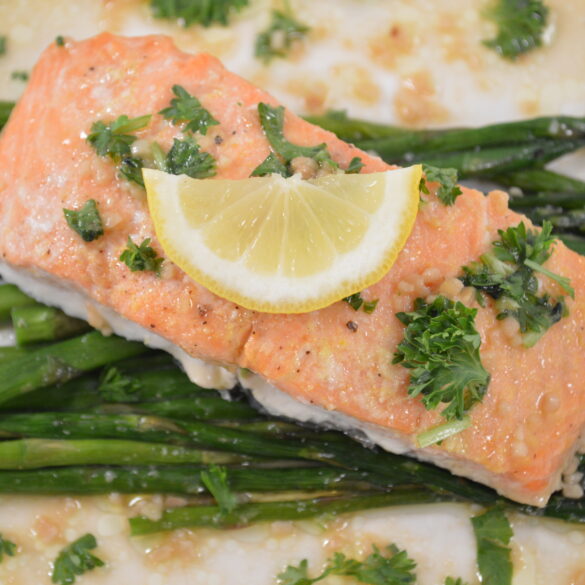 Ingredients
4  Salmon fillets (4 oz each)

1 tsp olive oil

1 tsp of salt

½ tsp of black pepper

½ tsp of garlic powder

Half of lemon

1 tbsp of parsley for garnish

Butter- Garlic sauce:

1 oz of butter

1 tsp of minced garlic

¼ cup of chicken broth

Half of lemon

¼ tsp of erythritol (to neutralize the citric)
Instructions
Preheat the oven to 350°.
Place the salmon fillets and the asparagus in the baking dish.
Add the olive oil, salt, pepper, garlic powder, and half of the lemon then place the baking dish into the oven for about 15- 20 minutes.
While the Salmon is in the oven, let's work on the butter-garlic sauce. In a small saucepan, place 1 oz of butter, and 1 tsp of minced garlic, then add a quarter cup of chicken broth and let simmer. The sauce should be reduced to half.
Take out the Salmon from the oven, pour the butter garlic sauce and garnish some parsley.
Tips and notes:
Salmon meat is sensitive to heat; overcooking can make the fillet dry and chewy. To keep the nets soft and moist, avoid overcooking the Salmon.
Always use fresh herbs to garnish the fillet and drizzle them on top right before the use.
If you are using frozen salmon fish fillets, then leave them at room temperature until they are completely defrosted and cook them when they achieve room temperature.
New to this healthy lifestyle? No worries, we got you covered. Go to our "get started" section to learn more about my journey and how I did it.
* The nutrition facts provided on this site are estimated values from an online recipe nutritional calculator. I am not a specialist, not a certified nutritionist. For accurate information or dietary restrictions, allergies and concerns, please consult a professional nutritionist or specialist.