It's about time to add another rich and creamy delight to your ketogenic menu with this low carb cream of asparagus soup. I was never really a big fan of asparagus until I switched to my low-carb diet. This green vegetable is so underrated, and it was only when I started adding to my keto diet, I realized how tasty asparagus meal can get and how healthy it could be.
While searching for more flavorsome ideas to add asparagus to my family menu, this asparagus soup came as a surprise. It tastes amazing; it is super simple and easy to make; moreover, it is loaded with nutrients. Even when you are not on the ketogenic diet, you can still try this soup and share it with your loved ones because it is healthy and nutritious. Whether it's the young or the adults, you can serve this soup to all, and they will definitely love it. 
This low carb cream of asparagus cream soup recipe that I am about to share today is a result of some of my cooking experiments. There are several ways that people cook this soup, but what I like about this recipe is that it is simple and quick. Even if you are a beginner, you can cook it well without messing up anything. Moreover, you have the complete edge to adjust the seasonings according to your own taste palette. I haven't used tangy spices to make this soup because they don't go well with the creamy and mild flavor of the asparagus soup. Besides garlic powder and onion powder, I have only used salt and Badia seasoning. Badia is optional here; you can skip it or replace it with any other seasoning of your choice. However, I simply love its taste in this soup. 
How to make low carb cream of asparagus soup?
To make this soup, you will need to find quality asparagus from the market. I always use fresh asparagus and would recommend the same to all. Half a pound of asparagus is enough to make this soup. Once you find the best quality asparagus, you will need to prepare it for the soup. Trim the tips of the spears and wash them well. When washed and dried, chop the asparagus sticks into 1-2 inches pieces with a sharp knife. Now that your asparagus is ready to keep it aside and start cooking.
For sautéing, I use butter in this recipe. Butter adds a rich and earthy flavor to the soup, but if it is not available at home, then don't panic and use any vegetable oil to sauté the ingredients. Sauté the garlic first in this butter until it gives off its garlicky aroma. Make sure to use a large-sized cooking pot because we will be adding a lot of liquid to this soup. The pot's mouth should be wide so that it will be easier to strain the blended soup back into the pot. Keeping these facts in mind, I always cook this soup in one of my deep woks. Coming back to the recipe!
When garlic is sautéed, add asparagus to the butter and make sure to keep the heat medium-high. Sauté the asparagus for 5 minutes more until its juices are evaporated completely. As you sauté the asparagus, keep adding all the spices and seasonings; it will deeply infuse flavors into the asparagus and the soup. That is the time when you add beef or chicken broth to the asparagus. 
Let's just say that you don't have beef broth or chicken broth at home, or you don't get the time to prepare them in time. In that case, bouillon cubes can be used. Simply heat the same amount of water, which is two and a half cups in this recipe, and dissolve two bouillon cubes in this water. Now use this bouillon water instead of broth. It will add good taste.
Once you have added the broth to the asparagus, allow it to boil first then add the whipping cream. The heavy whipping cream can be replaced with heavy cream, coconut cream, or half and half cream if you have any of those options available at home. Continue cooking this creamy soup until the asparagus is soft; then, you need to blend it in the blender until the asparagus are completely pureed.
Straining is the critical part here. Use a steel strainer or a large sieve to strain this soup into the same cooking pot. As you strain the soup, continue pressing the mashed or blended asparagus against the base to squeeze all the liquid soup out of the strainer. Reheat the strained soup and cook it with some xanthan gum to add a bit of the thickness to the soup. Once it has thickened, pour this soup into the serving bowls and garnish with a dollop of cream and cilantro. Sautéed asparagus tips are also great for garnishing, and you should try them sometime. And Voila! Your creamy asparagus soup is ready to devour!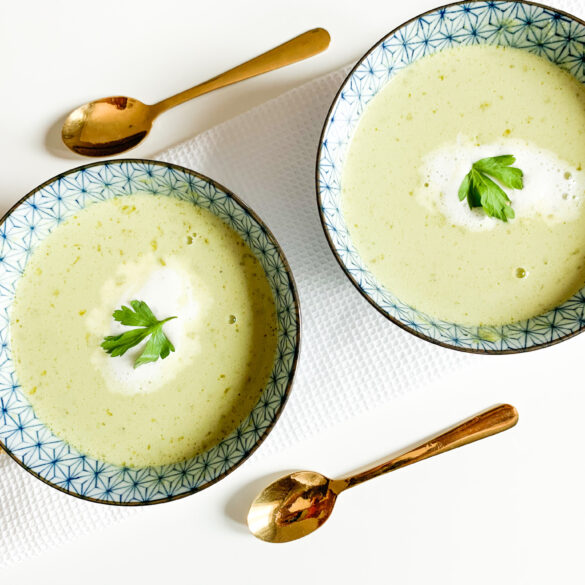 Ingredients
1/2 lb of asparagus, trimmed and chopped

2 tbsp butter

1 tbsp minced garlic

2 1/2 cup beef or chicken broth

1 1/2 cup heavy whipping cream

1 tsp powder garlic

1 tsp powder onion

1 tsp salt

1 tsp Badia seasoning

1 tablespoon xanthan gum

To garnish: sour cream and cilantro
Instructions
Take a cooking pot or a deep skillet and place it over medium heat.
Add butter and minced garlic then sauté for 1 minute.
Stir in asparagus and sauté for 2 minutes.
Add garlic powder, onion powder, salt, and Badia seasoning.
Mix well and stir fry for 1 minute.
Pour in beef broth and cook the mixture to a boil.
Add heavy whipping cream and cook the soup on a simmer until asparagus is soft.
Transfer this soup to a blender jug and blend until it is smooth.
Strain the blended soup through a strainer and press the asparagus mash against the sieve to strain all the liquid out.
Return the strained soup to the cooking pot.
Add xanthan gum and cook with occasional stirring until the soup thickens.
Serve warm with your favorite garnishing.
Enjoy