Bread is that one thing that you can not stop having, even when you are on a low carb diet. And I think we shouldn't! But what about all the carbs it comes with? Well, you can now eat all the bread you want with minimal carbs count! This low carb keto bread loaf recipe is a must-to-have for every low carb menu since bread is served at every breakfast table. You must have bread available for sandwiches and to make low carb French toasts. So, what if you can't find a healthy and carb-free bread in the market, with this simple and easy to follow the recipe you can get it ready in no time. Bake and serve fresh and healthy bread without thinking about hidden carbs and sugars.
Before we get to the recipe part, let me tell you how I actually got my hands on this recipe. It was a few months after I switch to my low carb keto diet; and sometimes I would crave a slice of nice white bread to accompany some of my meals. In markets, you can find some low carb alternatives, but you cannot really rely on market packed products. So, I needed some bread that could be as delicious as the wheat bread and so easy to make that I could bake it at home all the time. And then, my dietician introduced me to this unique and healthy combination of low carb ingredients, which I could finally use to make keto bread. So, I gave these ingredients a try and adjusted their proportions to get a soft and fluffy low carb bread out of them.
Low Carb Ingredients for Low Carb bread:
To make a keto low carb bread loaf, you need to find the perfect carb-free alternatives to the ingredients that you normally use for baking. Here are a few of the substitutes that I have used for this recipe:
Almond flour:
Whether its baking low carb bread or making keto cakes, it is the almond flour that I use the most, mainly because of its neutral taste and the texture it provides to the bread. For this keto white bread, I am also using almond flour instead of using any of the wheat-based flour. Remember to choose only the blanched almond flour for this recipe. The blanched almond flour has a fine texture and light color, which is important to keep this bread white and soft. I have used Bob's Red Mill blanched silky almond flour to make this bread. A ¾ cup almond flour is enough to make a medium-large sized bread loaf which then gives 14 slices after baking. Be careful when adapting regular recipes into a low carb one, because the ration to all-purpose and almond flour is more or less 1:2. Always check your almond flour package as it usually comes up with this information on the back, and this can vary by brand.
Almond Milk:
Usually, it is the cow or goat milk that is used in several bread recipes. Since animal-sourced milk is loaded with carbs, we cannot use it for this recipe, even in a small amount. We need almond milk as a low carb alternative. The almond milk is prepared and extracted from almonds. So, it is healthy, rich, and yet carb-free. I love this brand.
Eggs: yolk and whites separated:
Since we are using almond milk in a small amount, to make the bread's dough smooth, I use eggs to mix the almond flour and other dry ingredients. But the egg's yolks and whites are used separately, only to add more fluffy texture to the bread. You can use any hack to separate the egg yolks. Mine is to keep the yolk in the eggshell after cracking it and let the egg white flow into a bowl; sometimes, I use a very small but very useful gadget for this. Then transfer the yolk to another bowl.
Melted Butter and Other Ingredients:
To give this bread a perfectly fluffy texture, there are few more things that you need to add to the recipe; those may include:
Cream of tartar
To keep the bread soft after baking, I melt butter to the batter. I have used unsalted butter for this recipe to keep my bread low-sodium. To melt the butter, place it in a microwave-safe bowl, heat it for 1 minute (using 20 seconds intervals) in the microwave, then stir this melted butter and mix well.
Steps to Make Fluffy Low Carb Bread Keto Loaf:
Two critical steps make all the difference. First is the mixing of the dry ingredients and then incorporate all the wet ingredients. But you can not simply mix all the ingredients directly together. To get a soft and smooth dough for this low carb bread, you need to do the following:
Beat the egg yolks separately with the wet ingredients: almond milk and butter, until you have a smooth mixture. Then add all the dry ingredients and mix until the mixture is lumps-free. Now beat the egg whites separately in a mixing bowl with an electric beater to make it foamy. When the egg whites start to form stiff peaks, you gently fold it into the prepared flour batter. Once the batter is ready, the next part involves baking it for 40 minutes in a large-sized greased loaf pan. The completed baked bread loaf appears golden brown from top. Remove it from the pan and allow it to cool.
Low-Carb Bread Serving Ideas:
Once baked, you can serve and use the low carb bread slices to make:
Sandwiches
Bread rolls
Mini pizzas
Avocado toast
Toasts with peanut butter etc.
The freshly baked bread can last fresh for 2-3 days at room temperature in a sealed container. Or it can be stored for a week in a sealed container through refrigeration.
There you go! Now you have your very own low carb white bread loaf recipe. Let's do some healthy baking and try this flavorsome bread.
New to this healthy lifestyle? don't miss out my starter guide and my ultimate low carb keto shopping list.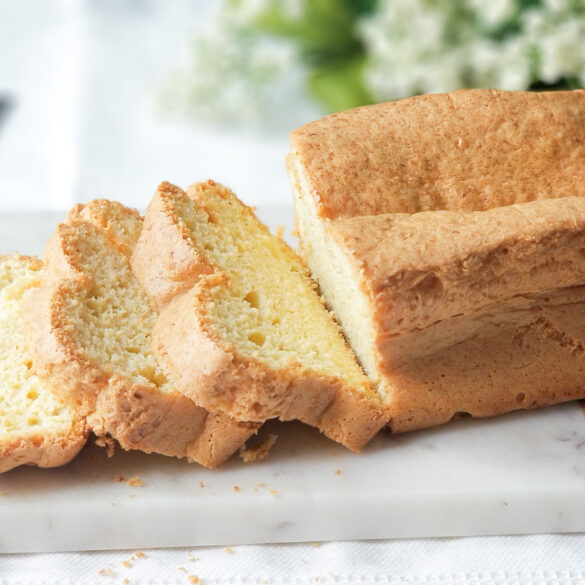 Ingredients
5 eggs white

1 tsp cream of tartar

5 yolks

3/4 cup Almond Flour

1 tbsp baking powder

½ tbsp xanthan gum

Salt to taste

1/3 cup almond milk

¼ cup melted Butter
Instructions
Preheat the oven to 350 F.
Separate 5 large eggs, placing the whites in a large bowl and the yolks in another one.
Add cream of tartar to the egg whites. 
Beat the egg whites with an electric hand mixer on medium-high speed until stiff peaks form. Set aside.
Get the 5 yolks, add room temperature almond milk, the melted butter, and mix. 
Add into the yolks batter, all dry ingredients: almond flour, baking powder, xanthan gum, and salt.
Fold the eggs whites into the yolks batter, little by little with circular motions. You don't want to stir this like you usually do because it would take out some of the fluffiness, just fold gently.
Take a medium-sized loaf pan and layer it with parchment sheet and cooking spray.
Spread the bread dough in the prepared pan and bake for about 40 minutes in the oven.
Once baked, remove the pan from the oven and place it on a wire rack.
Allow the bread to cool, then run a knife around the edges then remove the bread from the pan.
Place it on a cutting board and slice.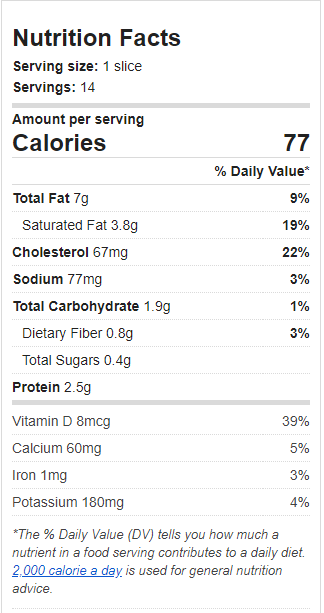 * The nutrition facts provided on this site are estimated values from an online recipe nutritional calculator. I am not a specialist, not a certified nutritionist. For accurate information or dietary restrictions, allergies and concerns, please consult a professional nutritionist or specialist.