Attention cookie lovers! Do you miss having chocolate chip cookies on your low carb menu? Being a low carb dieter myself and staying away from chocolate chips cookies was the hardest thing to do. So, I know the struggle! But what if I tell, with this keto low carb chocolate chip cookies recipe, you can enjoy the same sweet and warming flavors without compromising your health. That's right! You can make delicious cookies using all the low carb substitutes, and they will turn out as good as other baked cookies. It has been a while since I started making these low carb cookies at home, and now it's not just me who enjoys them to the core, but everyone in my family loves them for their irresistible flavor. So, let's see how you can make these keto low carb chocolate chip cookies without using any wheat-based flour or table sugars. 
Low Carb Substitutes:
Every chocolate chips cookie recipe is based on a few essential ingredients which make up the dough. Firstly, it is the flour, then some liquid base to make a dough, sweeteners, and chocolate. The following are a few suitable substitutes that can reduce the cookie dough's carb content, and they ensure the same sweet and earthy flavors.
Low Carb Flour:
All grain-based flours are high on carbs, so wheat-based all-purpose flour is really not an option for this recipe. So, I looked for ways to replace the all-purpose with other low carb alternatives and found almond flour just the right ingredients to make the cookie dough. Almond flour is processed out of almond nuts, so it is safe to use it on any low carb diet, especially the ketogenic diet. The almond flour, which is processed out of blanched almonds, is finer in texture, and it is whiter in color than the unblanched almond flour. So, blanched almond flour seems great for this keto low carb chocolate chip cookies recipe. Bob's red mill blanched almond flour is easily available in stores and online, and I usually use the same for this recipe and several other low carb breads and cakes recipes. The unblanched almond flour is a bit grainy, so I would recommend not using it for this recipe, at least. When you make your cookie with blanched almond flour, it would be hard to tell if that they are not made from wheat-based flour, that how good its taste and texture turns out.
Sugar-Free Chocolate Chips:
Another big challenge that you face while making low carb chocolate chips cookie is to avoid the sugar present in the chocolate. Most of the chocolate chips that are readily available in the market have some sugar content, and if the pack says it's sugar-free, there must be some hidden carbs in the chocolate. So, I would suggest not to take any risk and try the choc zero sugar-free chocolate chips, as I use the same. Or you can get just the sugar-free chocolate chips from any other trust brand, that you must have used before.
Erythritol and Monk Fruit Blend: Low Carb Sweetener:
Its time to add the much-needed sweetness to your chocolate chips cookies, and you can only do so by adding low carb sweetener to the dough. There are several low carb sweeteners that are good for ketogenic desserts and low-carb snacks, like stevia, swerve and monk fruits, etc. But the one I am using in this recipe is based on erythritol and Monk fruit blend, Lakanto, which is the brand I use the most. Firstly, this sweetener has that perfect texture that nicely complements the texture of the flour, and secondly, its degree of sweetness is close to table sugar. No after taste, trust me!
Making the Low Carb Chocolate Chips Cookie Dough:
I find this recipe suitable to make 9 standard-sized chocolate chips cookies. But you can use always use the same dough to make 15 small-sized cookies according to your eating preferences. To make its dough, simply mix all the dry and wet ingredients together. I recommend using a spatula at this point because the dough is very sticky, avoid using a whisker. And make sure to add the chocolate chips in the end when all other ingredients are mixed together into a smooth dough. Knead this dough lightly and then use it to make cookies. If you are not ready to bake the cookies right away, then do not leave the dough on the working surface. Wrap it well in a plastic sheet and then store it in the refrigerator. 
There you go! Now you have the secret of making delicious chocolate chips cookie with low carbs. Give them a try, and do let us know about your personal experience.
New to this healthy lifestyle? don't miss out my starter guide and my ultimate low carb keto shopping list.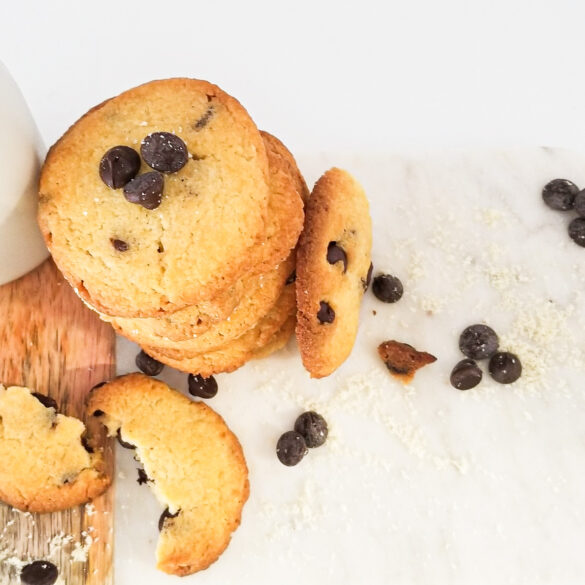 Ingredients
Wet-mix

½ cup Erythritol

¼ cup Salted Butter

½ tsp Vanilla Extract

1 large Egg

Dry Mix:

3/4 cup Almond Flour

1/4 tsp baking powder

1/3 tsp xanthan gum (optional)

1/4 tsp Salt

1/3 cup Sugar-Free Chocolate Chips
Instructions
Set the temperature of the oven to 350F, for preheating.
Prepare a baking dish with parchment paper
Mix all wet ingredients and the sugar
Then mix all dry ingredients in another bowl
Pour the dry ingredients into de wet one and mix well. Then add the chocolate chips
Once is all combine shape like a golf ball or smaller
And place them on the baking dish, leaving at least 1 to 2 inches of space between each cooking.
Bake these keto low carb chocolate chip cookies for 15-20 minutes in the oven until they are golden brown in color.
Once baked, remove them from the oven and allow them to cool.
Serve fresh or store in a cookie jar.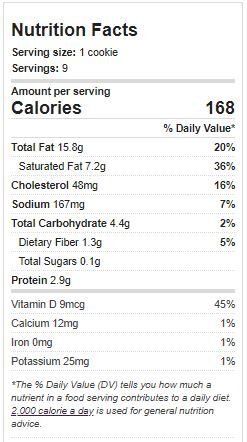 * The nutrition facts provided on this site are estimated values from an online recipe nutritional calculator. I am not a specialist, not a certified nutritionist. For accurate information or dietary restrictions, allergies and concerns, please consult a professional nutritionist or specialist.