If you miss eating morning puddings and oatmeal porridges on your low carb breakfast menu, then you can try this overnight keto chia seed pudding, which is equally delicious and healthy. This quick and simple recipe calls for basic keto ingredients, and you can get the pudding ready without even cooking. So, it works best for the keto-beginners and especially those who do not like spending much time in the kitchen. The great part about this chia seed pudding is that by adding different toppings every time, you can enjoy a variety of flavors. I like it best when the pudding is served with refreshing berries and coconut shavings on the top.
The reason that I started making this pudding is the sheer convenience and ease that I felt preparing this meal for breakfast. During the weekdays, getting your breakfast ready before going to work seems like a race against time. Even some days, I couldn't even eat anything at all in all the rush and hurry. So, I was desperately looking for something quick and easy to make, yet healthy and perfectly suitable to maintain my low-carb intake. And this overnight chia seed pudding turned out to be everything I was looking to having kicking start for my day. You don't need to do anything in the morning; all the ingredients are mixed together and left overnight. And just like that, you can serve this pudding with your favorite berries and low-carb toppings.
Keto Overnight Chia Pudding Ingredients:
If you haven't yet tried this delicious chia seed pudding, then let me tell you that you definitely will instantly fall for its mild coconutty flavor once you try it. There are lots of keto-substitutes that are used in this pudding. I chose this chia pudding because of its refreshing taste. Here are the ingredients that you need to make this pudding at home:
Plant-Based Milk:
To prepare the base of this pudding, you will need some milk. For a low carb meal, plant-based or nut-based milk is a perfect option to go for. For this pudding, I have been using coconut milk. It does not only have lesser carbs, but it also tastes great. When you make the pudding out of the coconut milk, it will give you an interesting combination of flavors. However, you can always use other easily available low-carb alternatives like almond milk or soy milk. Make sure not to confuse these milk products with flavored milk. A can of coconut milk is enough to 2-3 small bowls of chia seed pudding.
Chia Seeds:
These seeds have countless health benefits. I recommend chia seeds to everyone, whether they are on a low carb diet or not. It is mainly because chia seeds are little reservoirs of healthy nutrients and anti-oxidants. They are great for weight-loss as they help in the fast burning of calories. They accelerate cell metabolism and help detoxifies the cell from harmful radicals. Chia seeds are great for skin and your digestive system. So, if there is anything that can add more nutritional values to your ketogenic meal plan than it is the chia seeds, just 2 tablespoons of these seeds will give you 2-3 servings of this pudding.
Low Carb Sweetener:
To add a little sweetness to the pudding, you can use any low carb sweetener. I prefer using "erythritol" because it has a mildly sweet taste. You can use other low-carb options as well. Whatever you chose to make your low carb breakfast, just make sure to use them according to their degree of sweetness. For instance, stevia is 200 times sweeter than the table sugar, so make sure to add a very small amount if you are using it to sweeten your pudding.
Toppings:
Besides the chia-milk base, there are several toppings that add lots of nutrients and much-needed flavors to the pudding. You can practically use any combination of toppings, but let me tell you about the one I have been using.
Cinnamon Ground: It has a distinct aroma; strong taste, and it is also great for health.
Maple Syrup Choc Zero: it is free from carbs, and it tastes great!
Coconut shaving: It nicely complements the coconut milk base that we have used for this pudding.
Fresh Berries: All berries are low in carbs, so you can practically add them to all your keto desserts and low carb breakfasts.
How to Make Keto Overnight Chia Seed Pudding:
To make this chia seed pudding, you will need a mason jar! Choose the size of the jar according to the total amount of milk you are using. Once your mason jar is ready, simply mix coconut milk with chia seeds, salt, and erythritol in this jar. Make sure to seal the jar and then place it in the refrigerator. Next morning you can serve the pudding after garnishing it with the cinnamon ground, berries, coconut shavings, and maple syrup. At times, when I like to add more nutrients to my ketogenic breakfast, I add a drizzle of chopped nuts or seeds on top of the pudding, which also gives it a nutty flavor and a nice texture.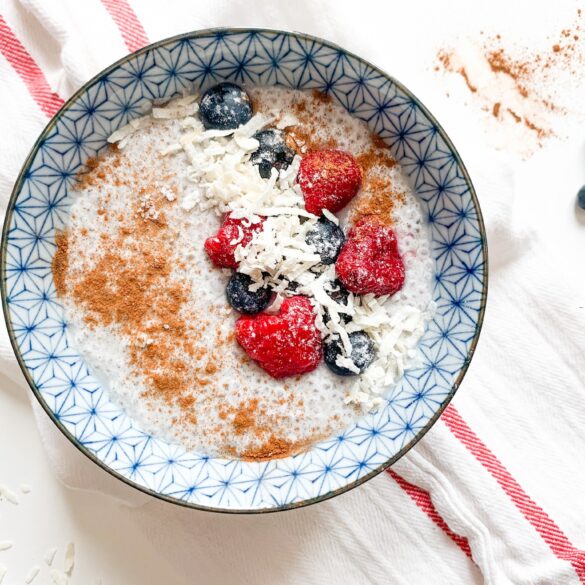 Ingredients
1 can of coconut milk

2 tbsp chia seeds

1/2 tbsp erythritol

1/2 tsp cinnamon

pinch of salt

1/2 tbsp maple syrup choc zero (sugar-free)

1/2 tbsp coconut flakes unsweetened

berries of your choice
Instructions
Add coconut milk, chia seeds, salt, and erythritol to a mason jar.
Seal the lid of the jar and place it in the refrigerator overnight.
Divide the prepared pudding in the serving bowls.
Top each bowl with an equal amount of cinnamon ground, berries, coconut shavings, and maple syrup.
Serve fresh and enjoy.
Notes
Do not add the toppings to the pudding until you are ready to serve. The basic chia pudding, without toppings, can be stored in the refrigerator for 5-7 days.
* The nutrition facts provided on this site are estimated values from an online recipe nutritional calculator. I am not a specialist, not a certified nutritionist. For accurate information or dietary restrictions, allergies and concerns, please consult a professional nutritionist or specialist.