I adore this low carb keto meatloaf. It is so easy to make that you will surprise yourself with how well it turns out. This is a great staple to add to your recipe repertoire.
It's delicious, of course; even my non-keto husband (whose diet made my journey more complex) agrees. I'll admit when I first told him what I was making, he was skeptical- how could you make meatloaf without bread crumbs? – but now he is a convert. You can't even tell the difference. It is flavorful and tasty. The key is in the almond flour. It acts as binding so that the meat stays together and keeps it rolled shaped, not only giving it an attractive look but also allowing you to wrap the bacon around it.
Like I mentioned before, this recipe is super easy to make. If you're a beginner at cooking, don't worry. I know that because of the coronavirus right now, a lot of people are making more meals at home instead of eating out, so they might feel like they are running out of tasty, simple ideas for dinner. If that's you, then this recipe is perfect because it is easier and requires less hands-on time than even making a hamburger. All you need to do is saute the onions and garlic, mix the ingredients, and roll up with bacon, and then the oven does the rest. It's easy to shape because of the almond flour – it acts as a binding agent.
The whole family can enjoy this recipe, which makes it great for a weeknight dinner or an alternative to whatever your usual staples are for dinner. It is even perfect for when you have friends or relatives over. (After the pandemic, of course!) In addition, this would make an excellent lunch, especially since we are all spending more time at home, it can be satisfying to prepare a hot lunch every once in a while. And when you're ready to go to work, this is a hearty lunch that will help fuel you through the whole workday.
One of the advantages of making low carb keto meatloaf is leftovers. It is excellent for meal preppers and busy folks juggling all of your responsibilities but still trying to eat well.
Where do I get my ingredients?
I buy most of my ingredients from the local store near me, and I also do my best to buy ingredients that are sourced locally. This way, my ingredients are fresh, and I am helping the environment. I have included links to some Amazon products. This is just so that you know what brand of ingredients I am using. Due to Covid-19, it is difficult to find some things in the store, and there are, of course, concerns about social distancing. Ordering from Amazon, Instacart, etc. lets you get the products you want and be safe.
Some stores are even rationing items, like almond flour and meat, among others. My husband went to Aldi today and could only buy two bags of Almond flour. Fortunately, it is an excellent one price/quality; it only costs $6.99 for 16 OZ. The brand is Baker's Corner, not sure if you have tried this brand, but I can attest it is good.
Still need convincing to try this recipe out? Well, let me tell you, I got it right on the first try, and so can you. Check out my video, making the recipe, and follow along if you'd like. I recommend preparing all the ingredients and their measures before starting cooking. That way, they are all ready and easy to pour into your main mixing bowl alongside the meat.
I hope you enjoy this low carb keto meatloaf as much as I do- let me know if you try it out! New to this healthy lifestyle? don't miss out my starter guide and my ultimate low carb keto shopping list.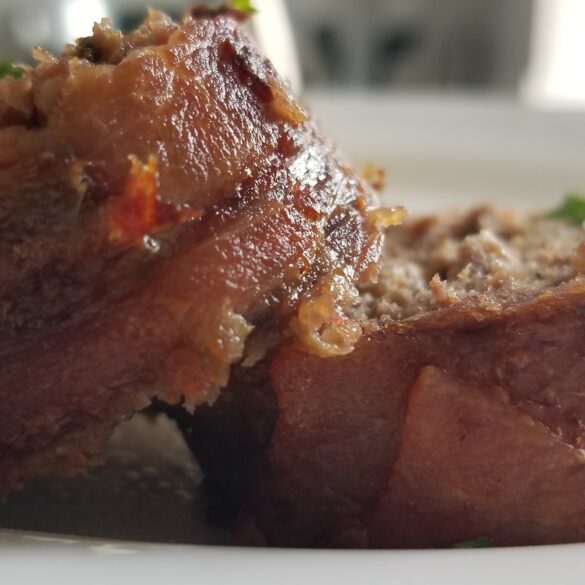 Ingredients
1lb ground beef

1 tbsp. extra-virgin olive oil

2 cloves garlic, minced

1/4 cup onion, minced

1 tsp of store-bought minced garlic (just because I love garlic, but totally optional!)

¼ cup mozzarella cheese (shredded)

1 egg

1/3 cup almond flour

1 tsp Italian seasoning

1 tbsp sea salt

6 bacon strips (divided in half)
Instructions
Preheat oven to 350°. Put foil paper on a baking dish.
In a small skillet over medium heat, heat olive oil and add onion, garlic and cook until soft, 3 minutes.
In a large bowl, combine ground beef, salted veggies (onion and garlic), eggs, Italian season with salt, and then the almond flour.
Shape into a small-medium loaf in a baking dish, then lay bacon slices on the foil paper and then place the meat on top of the bacon and roll-up. (I use foil paper because I find it easier, but you can use any).
Cook until bacon is crispy, and beef is cooked through about 1 hour.
Tips and notes:
Don't skip the almond flour (unless you have food allergies), or it will be very hard for you to shape the meatloaf. The almond flour is what binds the meat together. However, you can use any other low carb option. Pork rinds panko is another great option or even flaxseed meals.
Monitor the meatloaf as it is cooking as you don't want the bacon to get burnt or the ground beef to overcook as it will be too dry.
Add shredded cheese into the middle of the meat before you roll and wrap with bacon for an extra twist on classic meatloaf. This is what I do in the video.
Let the meatloaf cool before slicing as it will be slightly tender, and use a serrated knife.
* The nutrition facts provided on this site are estimated values from an online recipe nutritional calculator. I am not a specialist, not a certified nutritionist. For accurate information or dietary restrictions, allergies and concerns, please consult a professional nutritionist or specialist.